Search Events & Festivals
All Levels 8-Week Pottery Classes at CCLC
Mar 4 - Apr 29, Time: 2 - 4 PM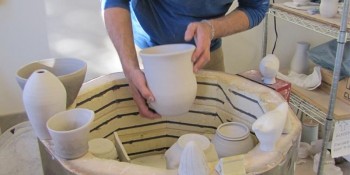 view larger photo
CCLC
Location: Cobscook Community Learning Center, Commons Bldg., 10 Commissary Point Road, Trescott
Join us for 8 weeks of pottery classes with instructor Michelle Cousineau. This class will focus on hand building, wheel demonstration and practice, and various glazing and decorating techniques. Students are required to buy a sleeve of clay ($50), however, they may split the cost with a classmate if they wish.
Mondays, 2:00 PM - 4:00 PM
Dates: March 4, 11, 18, 25 and April 1, 8, 15, 29
No Class April 22
Another 8-week session is available Mar 6 to April 24,  5:30 to 7:30 pm.
Cost: $120 for 8 weeks + cost of clay.
Payment plans and partial/full scholarships are available, continue to registration to request a scholarship or payment plan.
Register at: https://thecclc.regfox.com/all-levels-8-week-pottery-course-mondays-march-and-april

Ages: 5 and younger must be accompanied by an Adult.
Prerequisite: No prerequisite required.

About the Instructor:
Michelle is originally from Maine, has lived in various places around the state (including teaching in Lubec for a couple of years in the early 90s) and recently moved back to Maine after living in North Carolina for 20-some years. In North Carolina she taught adult education and studied pottery. She then worked professionally as a potter for many years, and also taught pottery classes out of her home studio. She's been a gallery owner and sold her work in various art shows and galleries.
For the past few years, she's focused on becoming a master gardener, working with community garden projects, and teaching classes on sustainable horticulture, agriculture, soil, and water. Now that Michelle is back in Maine and living near the CCLC, she is excited to roll up her sleeves, get back in the pottery studio, and offer her skills as a pottery teacher!
For more information:
Please call us at 207-733-2233 for information on payment plans and scholarships.