Search Events & Festivals
Lubec Dance! June - August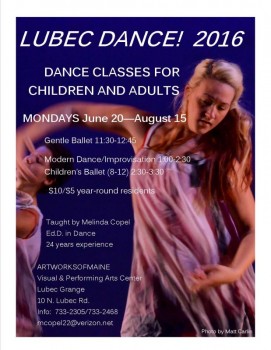 view larger photo
Lubec Dance!
Matt Carlin
June, July, August
(Monday)
Location: ARTWORKSOFMAINE Visual & Performing Arts Center
Lubec Grange across from McFadden's GULF on Rte. 189, 10 N. Lubec Road, Lubec
June 20 to August 15
Classes return for children and adults at ARTWORKSOFMAINE.  Taught by Melinda Copel, Ed.D. in Dance.  24 years experience.
Mondays - Gentle Ballet  11:30-12:45  Perfect for seniors and beginners Modern Dance/Improvisation  1:00-2:30  Modern dance warm-up followed by guided dance improvisations Children's Ballet  2:30-3:30  (8-12 years)
$10 / $5 year-round residents
For more information:
Karen Baldauski 733-2305, 733-2468