slideshow photo credits
Welcome! We invite you to spend your next vacation right here in Lubec, the easternmost town in the U.S.A., in Washington County, Maine. Join us in being the first to see the sunrise!
Discover the ease with which you can plan and spend your next vacation away from the maddening crowds, where the sun first rises on the United States of America, and a welcome awaits you! Lubec is where being yourself and enjoying life is second nature.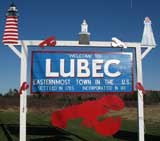 Current Lubec time
If your cell phone has jumped ahead one hour, it is because your phone is picking up a Canadian signal. For Campobello time add one hour to the time above.
What Lubec offers:
Year-round attractions
Rural / coastal setting
Tranquility and solitude
Rugged, natural beauty
Affordability
Unique, unaffected character, community and culture
Activities, services and amenities to welcome and satisfy business people, vacationing singles, couples and families.
What Lubec does not offer:
(So get your fill of these en route!)
Movie theaters
Shopping malls
Theme parks
Fast food restaurants
Heavy traffic
Stop lights
Lubec things to note
*What more could you want than a rising full moon, a grazing horse, and West Quoddy in the distance? Photo by Ruta Jordans
*The Lubec Market is moving indoors starting Nov 21st 9-11 AM into the Lubec Brewing Company!
*Check out the new Bold Coast Scenic Byway map sign in the pocket park across from the Lubec Post Office. 
* Tours of Lubec and Cobscook available to download or rent.  Watch How to Rent the Tours. Tours available for rent in Lubec at the Atlantic House, Bayside Chocolates,  Eastland Motel, and Monica's Chocolates.
* USA Today magazine's Travel Tips  Vacations in Lubec!
* Yankee magazine names West Quoddy lighthouse the best in its May/June edition.
November 21 and 28: The Lubec Market is moving indoors to the Lubec Brewing Company!
December 6: Learn about the trait of high sensitivity; watch the new documentary movie.
LCOC Senior, Disabled and Veterans' Holiday Meal and Celebration
December 12: Lubec Community Outreach Center Holiday celebration for seniors, disabled and veterans in Lubec, Trescott and Whiting.
The Crows at Crow Town Gallery
Dec 12: Duane Ingalls, Gordon Philips, Gary "brother" Bushee and Clif'tone' Moser play a mix of folk rock and pop with an emphasis on Celtic.
Dec 19: The Lubec Campobello Community Theatre presents an afternoon of seasonal stories, music and humor!
Hello, I have just spent a marvelous time on your Visit Lubec website and have found it to be an amazing resource! Kudos to whomever put it together and keeps it so updated. My goodness, it is far better than other big city sites I've used! All the links work, graphically it's beautiful, I mean, it's such a Wow.
We live in Ohio and are vacationing in Lubec next week; my husband grew up visiting family friends there and is so excited! I have been skeptical, however, not imagining there would be much to do with our two small boys. Looks like I'm wrong. :) Thank you so much for the wonderful listing of events, the maps, the great commentary....I'm as excited as my husband is, now!
Many thanks,"
Kara R., Ohio

"You provide a valuable resource to us all here in Washington County." -- Patricia C., Eastport, ME

"Just dropping you a note to say I am most grateful for your Web site. I've been researching vacation destinations in the Quoddy Bay area for several days, and yours is the only Web site that provides complete factual information (e.g., average temperatures by month) and organizes information rationally. The town's tourist map is very well done. I learned more about the entire region from your Web site than I did from most other Web sites combined." Mark A., Danbury, CT

"The site looks so good,...plenty there for the tourists and visitors and locals to explore and try." Marty S., Lubec ME

If you have suggestions on how we may improve this website please write to info@visitlubecmaine.com.