slideshow photo credits
We invite you to spend your next vacation right here in Lubec, the easternmost town in the U.S.A., in Washington County, Maine. Join us in being the first to see the sunrise!
Discover the ease with which you can plan and spend your next vacation away from the maddening crowds, where the sun first rises on the United States of America, and a welcome awaits you! Lubec is where being yourself and enjoying life is second nature.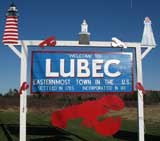 Current Lubec time
If your cell phone has jumped ahead one hour, it is because your phone is picking up a Canadian signal. For Campobello time add one hour to the time above.
What Lubec offers:
Year-round attractions
Rural / coastal setting
Tranquility and solitude
Rugged, natural beauty
Affordability
Unique, unaffected character, community and culture
Activities, services and amenities to welcome and satisfy business people, vacationing singles, couples and families.
What Lubec does not offer:
(So get your fill of these en route!)
Movie theaters
Shopping malls
Theme parks
Fast food restaurants
Heavy traffic
Stop lights
Lubec things to note
Photo by Carl Beal
*Have you heard about the return of the Lubec whale? Here is the story by Arielle Zionts of the Salt Institute.
* ExperienceTours of Lubec and Cobscook's NEW audio tour:  Explore the Intertidal Shore
    Learn here how to rent the tours in Lubec at the Atlantic House or the Eastland Motel.
*Welcome back, Frank's Dockside Restaurant!
*At this transition time of year, be sure to check directly with businesses to learn if they are open and their hours.
Christmas Pudding: Songs, Skits and Poems
Dec 20: Songs, skits and poems for the Christmas season performed by the Lubec Campobello Community Theatre
Dec 20: Join the fun and get into the Christmas spirit with Lubec's Festival of Lights parade!
Pathfinders walk on Sunrise Trail
Dec 21: Easy walk in Whitneyville.
Pathfinders walk on Sunrise Trail
Dec 28: Easy walk in Machias.
Nathanael Koening - Home for the Holidays Concert
Dec 28: Come hear this very fine musician in an intimate setting at the Crow Town Gallery.
You provide a valuable resource to us all here in Washington County." -- Patricia C., Trescott, ME

Just dropping you a note to say I am most grateful for your Web site. I've been researching vacation destinations in the Quoddy Bay area for several days, and yours is the only Web site that provides complete factual information (e.g., average temperatures by month) and organizes information rationally. The town's tourist map is very well done. I learned more about the entire region from your Web site than I did from most other Web sites combined." -- Mark A., Danbury, CT