slideshow photo credits
We invite you to spend your next vacation right here in Lubec, the easternmost town in the U.S.A., in Washington County, Maine. Join us in being the first to see the sunrise!
Discover the ease with which you can plan and spend your next vacation away from the maddening crowds, where the sun first rises on the United States of America, and a welcome awaits you! Lubec is where being yourself and enjoying life is second nature.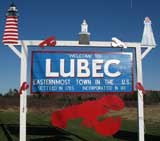 Current Lubec time
If your cell phone has jumped ahead one hour, it is because your phone is picking up a Canadian signal. For Campobello time add one hour to the time above.
What Lubec offers:
Year-round attractions
Rural / coastal setting
Tranquility and solitude
Rugged, natural beauty
Affordability
Unique, unaffected character, community and culture
Activities, services and amenities to welcome and satisfy business people, vacationing singles, couples and families.
What Lubec does not offer:
(So get your fill of these en route!)
Movie theaters
Shopping malls
Theme parks
Fast food restaurants
Heavy traffic
Stop lights
Lubec things to note
Photo by Jacob Pike.
* Lubec in the News!  Travelin Maine(rs): Best of Maine and Canada  .  If you can only visit one place in Maine this summer, make it Lubec.
* APPLE Tours of Lubec and Cobscook's NEW audio tour:  Explore the Intertidal Shore
* Cobscook Trails hiking maps are back!
* Travel and Leisure: America's Most Beautiful Coastal Views
* Business Insider's: 5 Under-The-Radar Places You Should Escape To This Summer.
* Tim Sample's views on Washington County and its take-no-prisoners quality.
Yay! The Eastport-Lubec Ferry is now going out from the commercial pier!
2014 Campobello Island's Fog Fest
Jul 30 - Aug 3: Campobello Island will once again be alive with music when Fog Fest, the island's free music festival, returns for its second year!
POSTPONED! Informational Public Meetings about large-scale wind energy development
Jul 30: July 30 meeting POSTPONED: Large-scale wind energy development planned for the Bold Coast region discussion.
Jul 31: Author Mary Bonina will introduce us to her new memoir. Signed copies will be available for purchase.
Campobello Public Library Summer Gala
Aug 2: Come enjoy this family-friendly event with a barbecue, raffles, book sale and so much more!
Matter Persists/ form changes: Artworks by Leslie Bowman Opening Reception
Aug 2: Come enjoy the paintings and photographs by Leslie Bowman from Jul 31 - Aug 19. An opening reception will be held on Aug 2, 5-7 PM