slideshow photo credits
We invite you to spend your next vacation right here in Lubec, the easternmost town in the U.S.A., in Washington County, Maine. Join us in being the first to see the sunrise!
Discover the ease with which you can plan and spend your next vacation away from the maddening crowds, where the sun first rises on the United States of America, and a welcome awaits you! Lubec is where being yourself and enjoying life is second nature.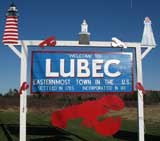 Current Lubec time
If your cell phone has jumped ahead one hour, it is because your phone is picking up a Canadian signal. For Campobello time add one hour to the time above.
What Lubec offers:
Year-round attractions
Rural / coastal setting
Tranquility and solitude
Rugged, natural beauty
Affordability
Unique, unaffected character, community and culture
Activities, services and amenities to welcome and satisfy business people, vacationing singles, couples and families.
What Lubec does not offer:
(So get your fill of these en route!)
Movie theaters
Shopping malls
Theme parks
Fast food restaurants
Heavy traffic
Stop lights
Lubec things to note
Wow! Check out the winners of APPLE's 2014 photo contest!  Thank you to all the photographers! (Photo  by Tammy Fairchild)                               *****                                  *****
Neighboring town Edmunds' Tide Mill Organic Farm's Bell family is honored by MOO Milk!
                 **********                                              **********
Three organizations working on projects for Lubec would be grateful for your support:
The Lost Fishermen's Memorial Association needs matching funds for a pledge of $10,000 from the Bar Harbor Bank and Trust! Donations can be made on their website. 
Lubec is also part of the Schoodic International Sculpture Symposium!  Make donations on their website (indicating under notes it is for Lubec).
The Lubec Lions Club is raising funds for a vision screener for Washington County children.  Mail donations to 68 North Lubec Road, Lubec, Maine, 04652.
                            *****                                       *****     
The Fundy Bay Marathon June 15th was named the top marathon in Maine worth traveling for by FlipKey.com!
                            *****                                       *****
Keep an eye out for the Fireside Restaurant (formerly the Lupine Lodge). That will begin the festivities to celebrate the Roosevelt Campobello International Park's 50th anniversary. 
Pathfinders Easy to moderate walk to Western Head
April 20: An easy to moderate walk to Western Head in Cutler.
Apr 24, 2014: Martin Sheen plays Tom, an irascible American doctor who comes to France to deal with the tragic loss of his son. He decides to embark on a pilgrimage to honor him. What Tom doesn't plan on is the profound impact this journey will have on him. Come enjoy a night out at the movies, shown at the Lubec Memorial Library.
Apr 26, May 3, 10 and 17: The Cobscook Community Learning Center will be the site of a four-part U.S. Coast Guard Boating Safety course, conducted by Doug Gaither, USCG Reserve.
Pathfinders Easy Walk at Gleason Point
April 27: An easy walk at Gleason Point in Perry.
Pathfinders walk at St. Regis Pasteur
May 4: Easy walk at St. Regis Pasteur in Machias.