slideshow photo credits
Welcome! We invite you to spend your next vacation right here in Lubec, the easternmost town in the U.S.A., in Washington County, Maine. Join us in being the first to see the sunrise!
Discover the ease with which you can plan and spend your next vacation away from the maddening crowds, where the sun first rises on the United States of America, and a welcome awaits you! Lubec is where being yourself and enjoying life is second nature.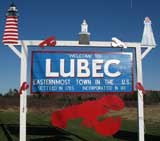 Current Lubec time
If your cell phone has jumped ahead one hour, it is because your phone is picking up a Canadian signal. For Campobello time add one hour to the time above.
What Lubec offers:
Year-round attractions
Rural / coastal setting
Tranquility and solitude
Rugged, natural beauty
Affordability
Unique, unaffected character, community and culture
Activities, services and amenities to welcome and satisfy business people, vacationing singles, couples and families.
What Lubec does not offer:
(So get your fill of these en route!)
Movie theaters
Shopping malls
Theme parks
Fast food restaurants
Heavy traffic
Stop lights
Lubec things to note
Photo by Ann LaHue
* Downeast Magazine's "POSTCARDS FROM THE EDGE" - Bold Coast Scenic Byway's three must-see stops!
*LUBEC TO EASTPORT WATER TAXI now from the WHARF, 69 Johnson Street.
* MaineToday's: Explore Maine's most easterly town: 8 things to do in Lubec and Campobello Island  and  Whale watches are a fun way to get on the water...
* Enjoy Maine Boats, Homes & Harbors' recent article:  "Campobello Island:  Touring Down East, across the border".
*Tours of Lubec and Cobscook tours available now in four Lubec businesses! Watch How to Rent theTours . Tours available in Lubec at the Atlantic House, the Eastland Motel, Lubec Brewing Company and  Monica's Chocolates.

Jul 7, 14, 21 & 28: The greatest benefit of attending this course will be learning to read and write in a form that is brief enough to be easily fitted into our busy modern lives, but complex enough to be engaging for years to come. 4 Sessions, Tuesdays.
Jul 8: Halcyon DUO – Eve Friedman, Flute; Roberto Pace, Piano; Fran Berge, violin
Jul 9: Mandolin Consort
West Quoddy Head Light Annual Celebration
Jul 11: Tours of the tower by the U.S.C.G. 11 AM - 3 PM, Live music, artists in the park, raffles, food vendors
Jul 11: Traditional New England Church Supper.
Thank you so much for including my photographs. We travel to Lubec most summers and stay as long as we can. We enjoy everything about Lubec, the people, library, shops, weather, sea glass and the ocean view doesn't hurt. Maine beats the Oklahoma summer hands down!"
Ann L.H., OK

"You provide a valuable resource to us all here in Washington County." -- Patricia C., Eastport, ME

"Just dropping you a note to say I am most grateful for your Web site. I've been researching vacation destinations in the Quoddy Bay area for several days, and yours is the only Web site that provides complete factual information (e.g., average temperatures by month) and organizes information rationally. The town's tourist map is very well done. I learned more about the entire region from your Web site than I did from most other Web sites combined." Mark A., Danbury, CT

"The site looks so good,...plenty there for the tourists and visitors and locals to explore and try." Marty S., Lubec ME

"I am thrilled my photos were included in the slide show. Our trip to Lubec will never be forgotten and we are still holding onto the glow from that visit. We hope to return in the not too distant future. Lubec is truly a very special place."
Bunny R., MA