slideshow photo credits
We invite you to spend your next vacation right here in Lubec, the easternmost town in the U.S.A., in Washington County, Maine. Join us in being the first to see the sunrise!
Discover the ease with which you can plan and spend your next vacation away from the maddening crowds, where the sun first rises on the United States of America, and a welcome awaits you!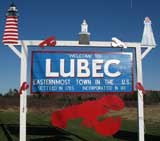 Current Lubec time
If your cell phone has jumped ahead one hour, it is because your phone is picking up a Canadian signal. For Campobello time add one hour to the time above.
What Lubec offers:
Year-round attractions
Rural / coastal setting
Tranquility and solitude
Rugged, natural beauty
Affordability
Unique, unaffected character, community and culture
Activities, services and amenities to welcome and satisfy business people, vacationing singles, couples and families.
What Lubec does not offer:
(So get your fill of these en route!)
Movie theaters
Shopping malls
Theme parks
Fast food restaurants
Heavy traffic
Stop lights
Lubec things to note
Thank you to everyone who entered our 2014 photo contest! We plan to start displaying them in April.
                               *****                                  *****
Two organizations working on sculpture projects for Lubec would be grateful for your support:
The Lost Fishermen's Memorial Association has received a pledge of $10,000 from the Bar Harbor Bank and Trust towards the sculpture if the association raises $25,000! Donations can be made on their website. (Photo of the Wave model by Jon Stence)
Lubec is also on the list to be part of the Schoodic International Sculpture Symposium this year!  Donations can be made on their website (indicating under notes it is for Lubec).
                            *****                                       *****     
Excitement is building for the second Fundy Bay Marathon June 15th! The DEADLINE for entry in the Marathon is midnight 1 June 2014 to allow time for processing by the border agencies. Registration for the 10K will remain open until 14 June.
                            *****                                       *****
We are looking forward to the opening of the Fireside Restaurant (formerly the Lupine Lodge) in May. That will begin the festivities to celebrate the Roosevelt Campobello International Park's 50th anniversary, which will culminate August 8-10. 
St. Patrick's Day Ukuleles at Uncle Kippy's
Mar 14: The UMM Ukulele Club will perform at Uncle Kippy's in Lubec to celebrate St. Patrick's Day.
Public Corned Beef and Cabbage Supper
Mar 15: The Christian Temple Church will be holding a public corned beef and cabbage supper.
Pathfinders Easy Walk at Mowry Beach
March 16: An easy Pre-St. Patrick's Day walk at Mowry Beach in Lubec.
Fruit Tree Scionwood Exchange at CCLC
Mar 16: Come learn about apple or fruit tree grafting and bring your favorite healthy scions!
Bingo to Benefit Schoodic Sculpture in Lubec
Mar 16: Have an afternoon of fun while benefiting the Lubec Schoodic Sculpture project! Chances to win Prizes and Cash!