slideshow photo credits
We invite you to spend your next vacation right here in Lubec, the easternmost town in the U.S.A., in Washington County, Maine. Join us in being the first to see the sunrise!
Discover the ease with which you can plan and spend your next vacation away from the maddening crowds, where the sun first rises on the United States of America, and a welcome awaits you! Lubec is where being yourself and enjoying life is second nature.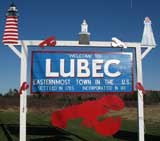 Current Lubec time
If your cell phone has jumped ahead one hour, it is because your phone is picking up a Canadian signal. For Campobello time add one hour to the time above.
What Lubec offers:
Year-round attractions
Rural / coastal setting
Tranquility and solitude
Rugged, natural beauty
Affordability
Unique, unaffected character, community and culture
Activities, services and amenities to welcome and satisfy business people, vacationing singles, couples and families.
What Lubec does not offer:
(So get your fill of these en route!)
Movie theaters
Shopping malls
Theme parks
Fast food restaurants
Heavy traffic
Stop lights
Lubec things to note
The Schoodic International Sculpture Symposium sculpture for Lubec by Valerian Jikia of the Republic of Georgia is in place at Stockford Park! Photo by Ruta Jordans
The Saturday Lubec Farmer's Market at the corner of School & Water Streets will include a cider press on its last day - October 11th. Bring your apples!      
* Coastal Living Magazine's: 5 Best Coastal Road Trips  - a trip to West Quoddy Head Lighthouse!
* Travelin Maine(rs): Best of Maine and Canada 
* Cobscook Trails hiking maps are back!
* Try Tours of Lubec and Cobscook's NEW audio tour:  Explore the Intertidal Shore
September 20 - 27: Help document and pick up the trash on Lubec's shoreline.
Sept 20: Come celebrate the harvest time in Lubec!
Coastal Cleanup at West Quoddy Head State Park
Sept 20: Meet at the Lighthouse to help clean a West Quoddy Beach!
Driftwood in the Style of Francesca Hoppin
Sep 20: Artist Reception.
Pathfinders at Boot Head with Optional Beach Cleanup
Sep 21: Moderate walk in South Lubec and a chance to help with coastal cleanup.