slideshow photo credits
We invite you to spend your next vacation right here in Lubec, the easternmost town in the U.S.A., in Washington County, Maine. Join us in being the first to see the sunrise!
Discover the ease with which you can plan and spend your next vacation away from the maddening crowds, where the sun first rises on the United States of America, and a welcome awaits you! Lubec is where being yourself and enjoying life is second nature.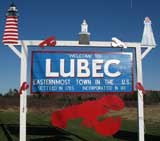 Current Lubec time
If your cell phone has jumped ahead one hour, it is because your phone is picking up a Canadian signal. For Campobello time add one hour to the time above.
What Lubec offers:
Year-round attractions
Rural / coastal setting
Tranquility and solitude
Rugged, natural beauty
Affordability
Unique, unaffected character, community and culture
Activities, services and amenities to welcome and satisfy business people, vacationing singles, couples and families.
What Lubec does not offer:
(So get your fill of these en route!)
Movie theaters
Shopping malls
Theme parks
Fast food restaurants
Heavy traffic
Stop lights
Lubec things to note
Fall Leaves photo by Ashley Farmer.
*Travelin Maine(rs): Best of Maine and Canada 
* Cobscook Trails hiking maps are back!
*Try Tours of Lubec and Cobscook's NEW audio tour:  Explore the Intertidal Shore
* Travel and Leisure: America's Most Beautiful Coastal Views
* Business Insider's: 5 Under-The-Radar Places You Should Escape To This Summer.
Cobscook Community High School Program
Sep 2: Accepting applications for the 2014-2015 school year!
Sep 6: The Living Newspaper will provide Washington County a homegrown journalism, reporting news and commentary
Jack Williams at Crow Town Gallery
Sep 6: Best of the Best songwriter and guitarist!
Pathfinders on Crane and Bells Mtns.
Sep 7: Moderate walk in Whiting.
Crow Town Gallery Shows with Four Artists
Sep 11: Four artists - Lisa Tyson Ennis, Leslie Bowman, Sheryl Denbo and Bonnie Beard, each with their distinctive styles have gathered to show their art at the Crow Town Gallery.