slideshow photo credits
We invite you to spend your next vacation right here in Lubec, the easternmost town in the U.S.A., in Washington County, Maine
Discover the ease with which you can plan and spend your next vacation away from the maddening crowds, where the sun first rises on the United States of America, and a welcome awaits you!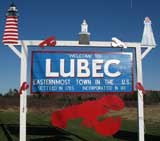 Current Lubec time
If your cell phone has jumped ahead one hour, it is because there are no cell phone towers nearby and your phone is picking up a Canadian signal. For Campobello time add one hour to the time above.
What Lubec offers:
Year-round attractions
Rural / coastal setting
Tranquility and solitude
Rugged, natural beauty
Affordability
Unique, unaffected character, community and culture
Activities, services and amenities to welcome and satisfy business people, vacationing singles, couples and families.
What Lubec does not offer:
(So get your fill of these en route!)
Movie theaters
Shopping malls
Theme parks
Fast food restaurants
Heavy traffic
Stop lights
Lubec things to note
APPLE's 2014 Photo Contest has started! Enter your photos to have them in next year's VisitLubecMaine.com masthead slideshow. Deborah Duley's 2013 photo contest entry shown.
One of the highpoints of Lubec late summer is to see the team from the New England Aquarium Right Whale Research at work. Check out the video (about 1/3 of the way down the page) of a right whale mom and calf visiting Lubec!
The new Bold Coast Scenic Byway (from Milbridge to Eastport, including Lubec) was featured in four 5 minute videos on Maine's Bold Coast: Chronicle New England Main Streets: WCVB TV Boston
DOWNEAST DEBUT FILM SCREENING--THE EAST-WEST CORRIDOR: WHY NOT?
Dec 10, 7 PM: Stop the East-West Corridor coalition and Defending Water for Life in Maine will be hosting the debut screening of the film, The East-West Corridor: Why Not? followed by a community dialogue with the statewide coordinator of Stop the East-West Corridor, Chris Buchanan.
Dec 18, 6:30 PM: Enjoy an hour of storytelling at the Lubec Memorial Library.
Christmas Pudding at the Lubec Memorial Library
Dec 21, 3 PM: Enjoy Christmas Pudding while listening to holiday stories and music!
Pathfinders Walk along the Sunrise Trail in Machias
Dec 29 , 1 PM (ET): Easy walk along the Sunrise Trail in Machias.
Jan 23, 6 PM: Seraphine Louis, a middle-aged housekeeper, has a remarkable talent for painting. A noted art critic discovers her work and promises to look after her and promote her art. Come enjoy a night out at the movies, shown at the Lubec Memorial Library.