slideshow photo credits
Welcome! We invite you to spend your next vacation right here in Lubec, the easternmost town in the U.S.A., in Washington County, Maine. Join us in being the first to see the sunrise!
Discover the ease with which you can plan and spend your next vacation away from the maddening crowds, where the sun first rises on the United States of America, and a welcome awaits you! Lubec is where being yourself and enjoying life is second nature.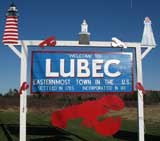 Current Lubec time
If your cell phone has jumped ahead one hour, it is because your phone is picking up a Canadian signal. For Campobello time add one hour to the time above.
What Lubec offers:
Year-round attractions
Rural / coastal setting
Tranquility and solitude
Rugged, natural beauty
Affordability
Unique, unaffected character, community and culture
Activities, services and amenities to welcome and satisfy business people, vacationing singles, couples and families.
What Lubec does not offer:
(So get your fill of these en route!)
Movie theaters
Shopping malls
Theme parks
Fast food restaurants
Heavy traffic
Stop lights
Lubec things to note
Photo by Cynthia Smit
* Tours of Lubec and Cobscook:  Tours available to download AND now for rent in four Lubec businesses!  Watch How to Rent the Tours.   Tours available in Lubec at the Atlantic House , Eastland Motel , Lubec Brewing Company, and Monica's Chocolates.
* The West Quoddy Head Lighthouse tours are back!  On Saturday's between 1:30pm – 3:30pm in July, August and September!
* Yankee magazine names West Quoddy lighthouse the best in its May/June edition !
*CANCELLED:  Lubec to Eastport Water Taxi is no longer running.
* Welcome back to the Congregational Christian Church's beautiful Spire!
Aug 1: Maine Coast Heritage Trust local steward Deirdre Whitehead will guide us through both the natural and human history of the island.
Campobello Public Library 9th Summer Gala Benefit Event
Aug 1: Fundraiser for the library features Author reading by Linda Greenlaw and stories with Delia Mae Farris, music, BBQ, Raffles, Crafts, Used book sale
Jane Koester and Leatrice Linden Art Show
Aug 1: Opening Reception for the art show from July 30 to August 19
Andrew McKnight returns to Lubec!
Aug 1: Award-winning singer/songwriter, guitarist and poet from northern Virginia's Blue Ridge McKnight writes, sings and speaks eloquently of the struggles and successes of rural America.
Aug. 3: A children's adventure drama film about the dog who helped save children from the 1925 diphtheria epidemic.
Hello, I have just spent a marvelous time on your Visit Lubec website and have found it to be an amazing resource! Kudos to whomever put it together and keeps it so updated. My goodness, it is far better than other big city sites I've used! All the links work, graphically it's beautiful, I mean, it's such a Wow.
We live in Ohio and are vacationing in Lubec next week; my husband grew up visiting family friends there and is so excited! I have been skeptical, however, not imagining there would be much to do with our two small boys. Looks like I'm wrong. :) Thank you so much for the wonderful listing of events, the maps, the great commentary....I'm as excited as my husband is, now!
Many thanks,"
Kara R., Ohio

"Thank you so much for including my photographs. We travel to Lubec most summers and stay as long as we can. We enjoy everything about Lubec, the people, library, shops, weather, sea glass and the ocean view doesn't hurt. Maine beats the Oklahoma summer hands down!"
Ann L.H., OK

"You provide a valuable resource to us all here in Washington County." -- Patricia C., Eastport, ME

"Just dropping you a note to say I am most grateful for your Web site. I've been researching vacation destinations in the Quoddy Bay area for several days, and yours is the only Web site that provides complete factual information (e.g., average temperatures by month) and organizes information rationally. The town's tourist map is very well done. I learned more about the entire region from your Web site than I did from most other Web sites combined." Mark A., Danbury, CT

"The site looks so good,...plenty there for the tourists and visitors and locals to explore and try." Marty S., Lubec ME

"I am thrilled my photos were included in the slide show. Our trip to Lubec will never be forgotten and we are still holding onto the glow from that visit. We hope to return in the not too distant future. Lubec is truly a very special place."
Bunny R., MA