slideshow photo credits
We invite you to spend your next vacation right here in Lubec, the easternmost town in the U.S.A., in Washington County, Maine. Join us in being the first to see the sunrise!
Discover the ease with which you can plan and spend your next vacation away from the maddening crowds, where the sun first rises on the United States of America, and a welcome awaits you! Lubec is where being yourself and enjoying life is second nature.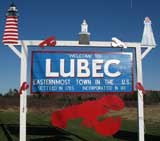 Current Lubec time
If your cell phone has jumped ahead one hour, it is because your phone is picking up a Canadian signal. For Campobello time add one hour to the time above.
What Lubec offers:
Year-round attractions
Rural / coastal setting
Tranquility and solitude
Rugged, natural beauty
Affordability
Unique, unaffected character, community and culture
Activities, services and amenities to welcome and satisfy business people, vacationing singles, couples and families.
What Lubec does not offer:
(So get your fill of these en route!)
Movie theaters
Shopping malls
Theme parks
Fast food restaurants
Heavy traffic
Stop lights
Lubec things to note
Photo by Carl Beal
* Enjoy Maine Boats, Homes & Harbors' recent article:  "Campobello Island:  Touring Down East, across the border".
* ExperienceTours of Lubec and Cobscook's NEW audio tour:  Explore the Intertidal Shore
    Learn here how to rent the tours in Lubec at the Atlantic House or the Eastland Motel.
*Hal Borns, our favorite geologist from the U. Maine Climate Change Institute, has videod his Downeast Ice Age Trail. Here are #39 the Lubec Moraine and #42 West Quoddy Peat.
*Have you heard about the return of the Lubec whale? Here is the story by Arielle Zionts of the Salt Institute.
Wool Fly Tying with Jim Merlihan
Jan 31: The lakes and rivers may be frozen over, but fly fishing season is just a few months away. While you're waiting for spring, come join us for a wool fly tying workshop with Jim Merlihan.
Feb 3: Join Maine Coast Heritage Trust in a guided snowshoe/ski/hike thru their Hamilton Cove Preserve steward, Melissa Lee.
Valentine's Day Dinner at the CCLC
Feb 14: Take your sweetie out for a wonderful evening filled with food, music and door prizes, and all for a good cause!
Winter Dance Party: The UMM Ukulele Band
Feb 14: Work off those holiday calories, chase away the winter doldrums, and brighten up the dark nights by getting out to listen to live music, socialize, and DANCE!
Feb 15: Learn all you need to know about fruit tree pruning!
You provide a valuable resource to us all here in Washington County." -- Patricia C., Trescott, ME

Just dropping you a note to say I am most grateful for your Web site. I've been researching vacation destinations in the Quoddy Bay area for several days, and yours is the only Web site that provides complete factual information (e.g., average temperatures by month) and organizes information rationally. The town's tourist map is very well done. I learned more about the entire region from your Web site than I did from most other Web sites combined." -- Mark A., Danbury, CT