photo: Jerry Conner
Hiking and Walking Trails

Cutler, Lubec, Trescott, and Whiting, Maine and Campobello Island, N.B.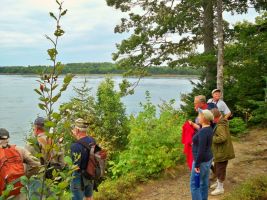 Pathfinders walk by Dale Calder
view larger photo
Outdoor Activities: Hiking
Lubec's peaceful, rural / coastal area with a dispersed population and little traffic provide the casual walker and serious hiker with spectacular scenic trails.
The variety of trails include steep, windswept coastal headlands, tidal flats, coastal islands, preserved peat bogs, beaches at low tide, boreal (northern)  hardwood forests, grasslands and meadows.
For an unforgettable walking or hiking experience come and enjoy the tranquility and outstanding natural beauty in such abundance in our area.
Hiking opportunities abound in this area. Varied terrain and habitats can lead an intrepid explorer along high, bold cliffs or through moss-covered forests in which one expects to see a gnome pop its head out from behind a tree any moment.
There are several boardwalks through raised coastal bogs with informational signs during the summer season. This habitat exists only in a very small slice of the U.S., and coastal Lubec can boast several of these fascinating and fragile ecosystems. Soils are thin, weather can be extreme, and very changeable. Tides and currents are impressive and formidable, so be careful, be prepared, tread gently on the land, and enjoy! There are choices for hikes that are long or short, meandering to challenging - all within a short drive from Lubec.
COBSCOOK TRAILS, an informative map of Cobscook Bay and Bold Coast, Maine hikes is now available online! Paper copies of the map are available for free at businesses around the region as well as the Cobscook Trails Partner offices. Partners are Maine Coast Heritage Trust, Downeast Coastal Conservancy, The Nature Conservancy, Maine Department of Inland Fisheries and Wildlife, Maine Department of Conservation: Parks and Lands, and the U.S. Department of the Interior: Fish and Wildlife Service.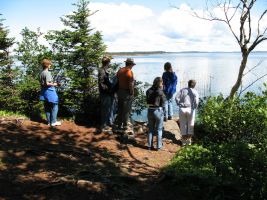 Viewing Head Harbour Passage
by Ruta Jordans
view larger photo
Links to Hiking Trails In This Area:
Cobscook Bay Region Get Active! map
Geologic History of the Lubec Embayment
Trails in Quoddy Head State Park
Trails in Cutler Coast Public Reserved Land
Trails in Roosevelt-Campobello International Park
Trails in Cobscook Bay State Park
Trails in Moosehorn National Wildlife refuge 
Trail maps available at the Baring office and at trailheads during the summer.
Maine Wildlife Management Areas (Horan Head, Morong Point, Commissary Point, Dennison Point)
Many local trails can be found on the Maine Trail Finder.
Downeast Coastal Conservancy (conserved lands and events) and Maine Coast Heritage Trust  (Treat Island, Hamilton Cove, Bog Brook Cove preserves , Pike Lands , Klondike Mountain , and field trips) have guided hikes and field trips on their properties throughout the year. They also provide volunteer opportunities to work on trail development and maintenance.