Whale Watching

Cutler, Lubec, Trescott, and Whiting, Maine and Campobello Island, N.B.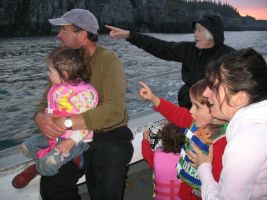 Look! There!
Photo by Ruta Jordans
view larger photo
Whale Watching (and Sightseeing)
Whales can sometimes be seen off-shore at West Quoddy Head Light in Quoddy Head State Park and again from East Quoddy Light, on Campobello Island. Whales are in these waters from late June to October occupying their summer feeding grounds.
Want to take a closer look at the largest of all mammals?
There are experienced fishermen who run whale-watching boats from Lubec, Campobello Island, as well as out of Eastport. They also pass lighthouses on their quest and Bay Cruises at the Wharf has U.S. Lighthouse Society Passport Stamps for the four Lubec/ Campobello lighthouses.
.
LUBEC WHALE WATCHING COMPANIES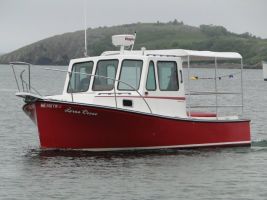 Photo by Chessie Crowe
view larger photo
At the Lubec Town Marina  (31 Johnson Street)  ride the "Old Sow" with Captain Ralph aboard the Lorna Doone. Tour the unmatched beauty of our craggy, rockbound coastline and sea, teaming with wildlife as diverse as eagles, osprey, whales, seals and porpoise. Photograph the lighthouses and ride the Old Sow Whirlpool. Discover the tales of old and the rich heritage of Lubec and its surrounding area. For reservations call: 207-733-2009.
1:00 PM - 3:30 PM   
6 Days a Week (Tues-Sun) June 26 to September 15, 2015
Leaving from THE WHARF
69 Johnson Street
207-733-4400
Email:   TheInnonTheWharf@aol.com
Seats 26 with inside and outside comfort
$49.00 per Adult,  $25 Children under 12
Our captains tour will show you whales, share sea stories and visit seals, eagles and lighthouses (weather permitting). U.S. Lighthouse Society Passport Stamps available.
Reservations, while not required, are recommended
.
CAMPOBELLO ISLAND WHALE WATCHING COMPANIES

Come aboard the "Mister Matthew" for one of our daily tours at 10:00 am, 1:00 pm and 4:00 pm daily (Atlantic time). See whales, seals, harbour porpoise, eagles and other seabirds as well as East Quoddy Lighthouse - one of the most photographed lighthouses in the world. 2 1/2 hr tour. Departing from Head Harbour Wharf on Campobello Island, NB, Canada. Call 1-888-249-4400 for more information or to make reservations.
.
EASTPORT WHALE WATCHING COMPANIES
The Historic Schooner Ada C. Lore
view larger photo
Join Capt. Butch Harris for a Whale Watching Cruise on the Historic Schooner Ada C. Lore, sailing out of Historic Eastport, Maine! To sail aboard the 118' wooden Schooner Ada C. Lore, is a step back in time. Passengers are encouraged to pitch in and help hoist the sails, or just relax and enjoy the quiet cruise. Look for whales, eagles, seals, & porpoise, as we pass by the Old Sow Whirlpool, and East Quoddy Lighthouse. Our 3hr sails leave daily at 1:30, reservations are recommended. $45.00- Adults, 30.00- Children under 12, and 15.00 -Children under 5. Sunset Sails are available by reservation, please call for departure time. 207-853-2500.104 Water Street,  Eastport, ME 04631
__________________
Fundy Breeze Charters
109 Water Street
Eastport, ME 04631
Captain Riddle's Sea Going Adventures
.