photo: Ashley Farmer
Churches and Places of Worship
In the Town of Lubec
Christian Temple Church
41 Main Street, by intersection with Church Street
Adult Sunday School 9:45 a.m. Sunday
Worship 11:00 a.m. Sunday
Bible study and prayer fellowship 7 p.m. on Thursdays
207-733-2887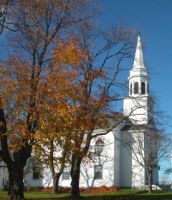 photo by Claudia Mahlman
view larger photo
Congregational Christian Church
At Main and Church Streets
207-733-2215 (parsonage)
Service: 11:00 AM Sunday
Gathered in 1818 and 1830. The church was constructed in 1820.
Ladies Social Union's Fairs and Luncheons :
Summer Fair (First Saturday in August, 11-2pm)
Christmas Fair (First Saturday in November, 11-2pm)
SummerKeys Wednesday Night Concerts, 7:30 PM:
Last week of June to last week of August
Ridge Baptist Church
272 County Road (near corner of Rt.189 and North Lubec Road)
Worship: 
11:00 AM & 6:00 PM Sunday   and 7:00 PM Wednesday
207-733-2002
Sunday School on Sunday 9:45 AM
Sacred Heart Catholic Church
Church and Summer Streets
207-733-2214 (rectory)
Mass:  4:30 PM Saturday
(3PM US time Saturday in Campobello)
West Lubec United Methodist Church
Rt. 189, West Lubec
Study phone 207-733-2426
Church service every Sunday at 11 AM.
Sunday School 10AM from Sunday after Labor Day to 2nd Sunday of June
Vacation Bible School in August
Public Baked Bean Suppers 3rd Saturday of Month May through October, except 2nd Saturday in August
July 3rd Bazaar, Fish Chowder and Pies
Fall Sale 2nd Saturday in October
On Campobello Island, N.B.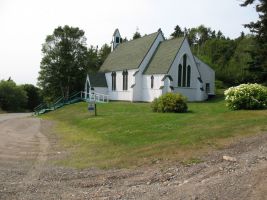 St. Timothy's Roman Catholic Church
photo by Ruta Jordans
view larger photo
St. Anne's Anglican Church,  North Road, Welshpool,  Services & Sunday School 11 AM (AT)  Church wardens: Irene McCarthy and Vivian Galley
St. Timothy's Roman Catholic Church, off North Road on St. Timothy's Catholic Cemetery Road, Services Saturday 4 PM (AT), Sunday School during Mass 506-752-2214
North Road Baptist Church, North Road, Welshpool, Services Sunday 11 AM & 7 PM (AT), Sunday School 9:45 AM (AT), 506-752-2911
United Baptist Church, Route 774, Wilson's Beach, Services Sunday 11:15 AM & 6 PM (AT). Sunday School 10 AM (AT), 506-752-2014
United Pentecostal Church, Route 774, Wilson's Beach, Services & Sunday School 10:30 AM (AT). Evening Service 6:30 PM (AT). Bible Study Wednesday 7 PM (AT). Prayer Meeting Friday 7 PM (AT). 506-752-2210 or 506-466-6285
In the Town of Whiting
Friends Meeting of Cobscook (Quakers), Route 189,   207-733-4904
Three Angels Seventh Day Adventist Community Church, 960 Route 1,  207-259-4400