slideshow photo credits
Welcome! We invite you to spend your next vacation right here in Lubec, the easternmost town in the U.S.A., in Washington County, Maine. Join us in being the first to see the sunrise!
Discover the ease with which you can plan and spend your next vacation away from the maddening crowds, where the sun first rises on the United States of America, and a welcome awaits you! Lubec is where being yourself and enjoying life is second nature.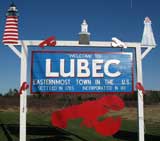 Current Lubec time
If your cell phone has jumped ahead one hour, it is because your phone is picking up a Canadian signal. For Campobello time add one hour to the time above.
Sunrise: 04:26
Sunset: 18:24(approx. times)
What Lubec offers:
Year-round attractions
Rural / coastal setting
Tranquility and solitude
Rugged, natural beauty
Affordability
Unique, unaffected character, community and culture
Activities, services and amenities to welcome and satisfy business people, vacationing singles, couples and families.
What Lubec does not offer:
(So get your fill of these en route!)
Movie theaters
Shopping malls
Theme parks
Fast food restaurants
Heavy traffic
Stop lights
Lubec things to note
* Ruta Jordans - You are the glue that held this community together - we will miss you terribly!  A Farewell note from APPLE's past president Ruta Jordans .  Thank you Ruta and we wish you all the best with your new adventures!
*  Becky's Seafood in Lubec is listed on Maine's Lobster Roll Trail - "One of the best lobster rolls in the area" !
* VisitLubecMaine.com recently updated the format of our Ongoing Events page. We welcome your constructive comments.  Please email us !
*  In Trescott, Maine Warden rescues the oldest Bald Eagle ever documented, banded when it was a just-hatched eaglet in 1983.
*  Help save the recently damaged Lubec Brining Shed - the last standing herring smokehouse in the country!
*  Tours of Lubec and Cobscook available to download or rent at the Eastland Motel.
The site looks so good,...plenty there for the tourists and visitors and locals to explore and try.
-- Marty S., Lubec ME
Every effort has been made to verify the accuracy of data on this website. Any errors are purely accidental and if you wish to point them out, please do so to listing@visitlubecmaine.com. Please contact the business establishment directly to verify rates and other details. APPLE and VisitLubecMaine.com will not be responsible for errors or inaccuracies. All information shown is subject to change.