Outdoor Activities in and Near Lubec, Maine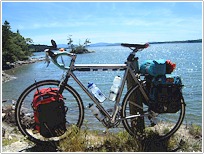 Lubec is one of the last places in the busy, over-crowded eastern seaboard where you can get away by yourself in tranquil pine forests, or walk for miles on the salt-sprayed shoreline, exploring and discovering secluded tidal inlets, and the uncrowded pleasures of coastal life.
An increasing number of visitors look to the Cobscook Bay area as the last frontier of peace and beauty, of quietness and clear, clean air. There are so many outdoor activities to enjoy in Lubec and the surrounding communities it is impossible to list them all. Here are a few. Which do you delight in?
On steep rugged headlands, tidal flats, forested hillsides or in grassy fields or bogs.
From dories to kayaks to yachts and guided boat trips.
Down quiet country roads or across hilly islands to take the international loop.
Kayaking, going out in a lobster boat, or taking yourself on an interpretive audio recorded intertidal shore or rare arctic bog tour.
Overlooking the Passamaquoddy Bay or blueberry barrens, from Campobello, St. Andrews, Calais or Machias, the golfing is both challenging and beautiful!
In a wildlife refuge, on rocky promontories, in grassy meadows, strolling on the beach at low tide, or searching for geocaches.
From the much photographed West Quoddy Head Lighthouse and Head Harbour Lightstation (also known as East Quoddy) to the painters' favorite Mulholland Point Light and the locally nicknamed Sparkplug (also known as Lubec Channel Light) to the shy Little River Light, lighthouses abound. View them from land or take a boat tour to see them close up. For boat tours to see the lighthouses, look under whale watching.
US Lighthouse Society Stamps are available at West Quoddy Head Visitors Center, West Quoddy Gifts and the Inn on the Wharf (for the lighthouse boat tours).
Whether you watch from a lobster boat or a windjammer or even from shore, the whales of Passamaquoddy Bay will keep you entertained.