Search Events & Festivals
2021 Bold Coast of Maine Workshops
Aug 8 - 11, Time: see website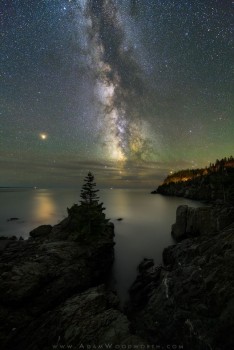 view larger photo
Adam Woodworth
Location: Lubec
All workshops are 3 nights and end on the morning of the 4th day.
All dates are equally good for the workshop in terms of angles of the Milky Way and the unpredictable weather.
August 8 - 11 (Sunday 1pm - Wednesday early AM) -- Only 3 Spots Left!

DESCRIPTION & LOCATION
Come explore the real Down East coast of Maine! Join professional photographer Adam Woodworth along the Bold Coast of Maine in Lubec, a small fishing village with a big heart and artist community, which also happens to be the easternmost town in the US. With lighthouses, rugged ocean cliffs, dark night skies, bald eagles, seals, and whales, this is an amazing place to photograph!
This is a landscape photography workshop, with a focus on landscape astrophotography with the Milky Way as conditions permit. This is the coast of Maine after all and clear skies are not guaranteed, but these workshops are scheduled around the new moon cycle so that we have moonless dark skies at night. This area is also a great place for dramatic sunrises and sunsets, with lobster boats, lighthouses, harbors, and rugged coastline as our foreground. There are also opportunities to photograph wildlife including bald eagles, seals, porpoise, whales, and puffins.
The Canadian border is still closed and I don't expect it to re-open in time for any scheduled workshops, so we won't be able to visit Campobello Island.
CURRICULUM
You will get an overview of everything I know about landscape photography and astrophotography and I will provide personal attention to each person throughout the class.
Milky Way photography
Sunrise & sunset photography
Long exposure photography
Focusing for stars in the dark
White balance, ISO, shutter speed
Star stacking for pinpoint stars and low noise
Separate foreground exposures and exposure blending in Photoshop
Planning shots with PhotoPills (available on the App Store or Google Play)
Lightroom & Photoshop editing
We will cover my entire editing workflow
SCHEDULE
The schedule is subject to change depending on weather and other factors.
The workshop ends after shooting on the third night of the class.
Day 1:  1pm meet & greet, hotel check-in, dinner, shooting for sunset and the Milky Way.
Day 2 & 3:  Afternoon class if possible, dinner, shooting for sunset and the Milky Way.
Day 4:  Hotel check-out and travel home.
COVID-19 SAFETY REQUIREMENTS
In order to attend this workshop you must be fully vaccinated against COVID-19 by the time the workshop starts. If you will not be able to get vaccinated in time please check back next year.
Having everyone vaccinated creates a safer environment for all of us when it comes to carpooling, being close together when I'm helping you with your camera, indoor sessions, etc.
Everyone must also follow the State of Maine COVID-19 travel requirements. As of this writing, anyone vaccinated against COVID-19 is exempt from quarantine rules.
Everyone must wear a mask when appropriate and in accordance with the state laws. Updates on the latest details will be provided when the workshop starts.
We will be meeting indoors at times, and you may join the group for an indoor meal in restaurants at your discretion.
For more information: