Search
Events & Festivals
4-weekend Rug Braiding Classes
Starts Feb 11, Time: 9 AM - 3 PM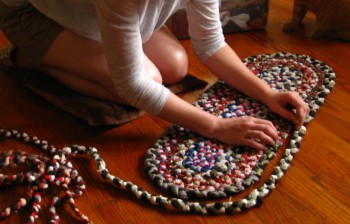 view larger photo
Cobscook Institute
Location: Cobscook Institute, 10 Commissary Point Rd, Trescott
Learn the centuries old craft of rug braiding with Arlene Wren!
4 Sessions,  (1 snow day/make-up day included)
Sliding Scale: $0-200* (including $20.00 materials fee)  *Our Access Fund provides self selected Sliding Scale Pricing to residents of Passamaquoddy Territory, Charlotte & Washington Counties.
Learn the traditional New England Craft of rug braiding.   Participants will learn how to create a braided rug.  Beginning with how to prepare the materials, through the braiding and lacing process and then on how to finish a beautiful braided rug.  These rugs are traditionally made from used clothing made of heavier materials (think woolen winter coats, pants or blankets). 
It takes about 6 pounds of prepared wool (or 6 yards of woolen fabric) to create a 2 ft by 3 ft braided wool rug.  For the class students can use woolen fabric or upcycle old sweatshirts or sweatpants, fleece, denim or Carhartt jeans or shirts.
For more information:
https://cobscookinstitute.org/classes-events/2023-rug-braiding?mc_cid=492ded87b6&mc_eid=755c32d990