Search Events & Festivals
8-week Pottery Course at the Cobscook Institute
Sep 7 to Oct 26, Time: 6 - 8 PM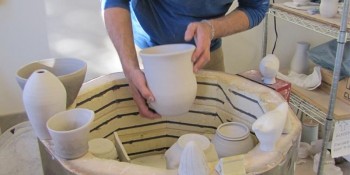 view larger photo
Cobscook Institute
Location: Cobscook Institute Campus, 10 Commissary Point Road, Trescott
Join us for 8 weeks of pottery classes with instructor Tim Christensen. Tim will be able to answer questions on all topics around a career as a professional artist, as well as questions specifically about ceramic arts.  This class will cover various topics, as requested by students at the first class, and will focus on individualized projects. 
Dates
Tuesdays, 6:00 PM - 8:00 PM, September 7, 14, 21 and 28, and October 5, 12, 19, and 26

Cost
$200 for 8 weeks + $50 materials fee.
Partial/full scholarships are available, continue to registration to request a scholarship.
Prerequisites
This class is geared toward intermediate to advanced pottery students, and to professional artists with some clay experience.
Ages
All ages 10 and over.
Children Ages 11 - 12 and older are welcome, with recommended parental/guardian observation for first 1 or 2 classes. Children ages 11-12 may use the wheel. This determination will be made by the instructor based on skills and safety considerations.
Children ages 13-18 may attend without a parent/guardian, and most likely will be able to have some success on the electric wheel.
About the Instructor
Tim is a local professional artist who resides in Roque Bluffs.  He has a vast art background. He has found success with a home business as an artist in various media, and has been a travelling teaching artist with the state of Maine. 
Please REGISTER
For more information:
https://cobscookinstitute.org/classes-events/intermediate-to-advanced-8-week-pottery-course-nbsptuesdays-september-and-october