Search Events & Festivals
All Levels 7-Week Pottery Course at the Cobscook Institute
Nov 1 - Dec 13, Time: 6 - 8 PM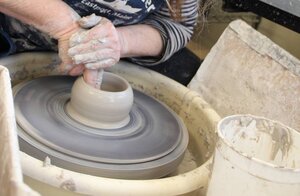 view larger photo
Cobscook Institute
Location: Cobscook Institute Campus, 10 Commissary Point Road, Trescott
Join us for 7 weeks of pottery classes with instructor Michelle Cousineau. This class will focus on hand building, wheel demonstration and practice, and various glazing and decorating techniques. 
Dates
Mondays, 6:00 PM - 8:00 PM
Dates: November 1, 8, 15, 22, 29 and December 6, 13

Cost
$175.00 for 7 weeks
Partial/full scholarships are available, continue to registration to request a scholarship.
Prerequisites
No prerequisite required.
Ages
All ages 10 and over.
Children Ages 11 - 12 and older are welcome, with recommended parental/guardian observation for first 1 or 2 classes. Children ages 11-12 may use the wheel depending upon physical size, attention span, hand/eye/foot coordination and fine motor skills. This determination will be made by the instructor based on skills and safety considerations.
Children ages 13-18 may attend without a parent/guardian, and most likely will be able to have some success on the electric wheel.
About the Instructor
Michelle is originally from Maine, has lived in various places around the state (including teaching in Lubec for a couple of years in the early 90s) and recently moved back to Maine after living in North Carolina for 20-some years. In North Carolina she taught adult education and studied pottery. She then worked professionally as a potter for many years, and also taught pottery classes out of her home studio. She's been a gallery owner and sold her work in various art shows and galleries.
Now that Michelle is back in Maine and living near Cobscook Institute, she is excited to roll up her sleeves, get back in the pottery studio, and offer her skills as a pottery teacher!
For more information:
https://cobscookinstitute.org/classes-events/all-levels-7-week-pottery-course-nbspmondays-november-and-december