Search
Events & Festivals
Art Camp for Teens!
Jul 18 - 22, Time: 10 AM - 4 PM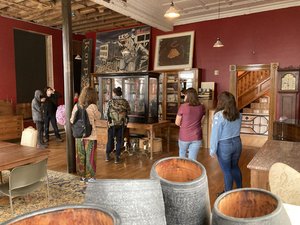 view larger photo
Cobscook Institute
Location: Cobscook Institute, 10 Commissary Point Rd, Trescott
Rising Grades 8 - 12; Sliding Scale $0 - $350

Celebration for Family & Friends on Friday at 3:00 pm
A fun, supportive week for young artists to be in community together. With daily field trips, active drawing sessions and enthusiastic facilitators we are excited to welcome you to Art Camp!
We will go on daily field trips to go on hikes, sketch on site, visit galleries, take a swim and tour artist studios.
Cobscook Institute's Art Camp fosters a healthy balance between structure & freedom. The goal will be to empower young artists to explore their creative storytelling through arts media, humor and exploration! The program will support independent study within a community studio space. Artists will take home a portfolio of work at the end of the week.
For more information:
https://cobscookinstitute.org/classes-events/art?mc_cid=02d15b0e4a&mc_eid=755c32d990