Search
Events & Festivals
Art Club for Tweens & Teens
Starts Jan 13, Thursdays, Time: 3 -5 PM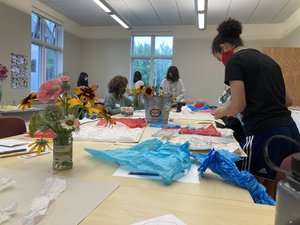 view larger photo
Cobscook Institute
Location: Cobscook Institute, 10 Commissary Point Rd, Trescott
Starts January 13 | Thursdays 3-5pm | Rolling Registration
Get together to make and think about art with people like you! In this youth led space we will nurture one another's individual artist selves. We will create together, plan projects and encourage one another at Cobscook Institute's Campus.
We encourage participants to attend weekly. We also welcome folks to drop-in to try the club on for size. Light snacks will be on hand (to be eaten outside during covid times).
Basic Studio Supplies are available. Bringing your own sketchbook is a plus!
Artist Annie Hopkins will advise this group and provide artistic support.
Open to all tweens & teens. We encourage  checking in with your school district to see if there is a bus drop off possibility for your town(ship).
To coordinate accessibility needs, please contact Kara McCrimmon kara@cobscookinstitute.org.
For more information: