Search Events & Festivals
Crafting at the Cobscook Institute
Aug 26 - 29, Time: 4 days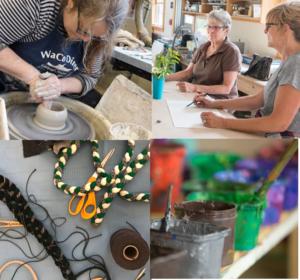 view larger photo
Cobscook Institute
Location: Cobscook Institute, 10 Commissary Point Rd, Trescott
Join us for four seriously fun days of creative crafting, play and rest. During intensive sessions, you can design and fashion beaded jewelry, construct your own book, silkscreen on cloth and paper, shape and fire clay, gather and press wildflowers, and more. In between, you can refresh your creative spirit with other spontaneous and guided activities and conversations. Throughout, you will learn new skills and hone and refresh your old crafting chops, finding joy and inspiration in creative community.
We will start each day with a morning circle, eating wild blueberries before our instructional time focused on ceramics, book arts, screen printing, and wildflower crafts (depending on registration numbers we may add choices). We will have noontime breaks for light lunches before open studio afternoons. There will be space and time for participants to explore their media, engage in discussions, take a nap or go on an adventure each afternoon.
Our evenings will be spent in celebration! There are live music options Thursday-Sunday and we will have catered dinners featuring freshly picked and prepared local foods on Thursday and Saturday evenings on campus.
Each day, expert craftspeople will give instruction in focused sessions and will be available during open studio sessions. During the open studios, participants can proceed with ongoing individual or group projects, or play with materials. There will be a Web of Reflection on the wall, where participants can build a collective understanding of what crafts mean to us as individual creatives, as a community of creatives, and in our cultures at large.
This dialogue will be continued and expanded over delicious home-cooked meals, around our fire circles, and in casual conversations throughout the days and evenings.
In addition to the craft program, you will have ample opportunities to swim, play, reflect, listen to music, and indulge in all the pleasures the ocean and woodlands of Cobscook Bay provide.
The program will take place at Cobscook Institute's Trescott Campus. For full benefit of the program, we encourage participants to stay with us at the Institute's Heartwood Lodge. Commuters are equally welcome. This program is designed to build community across generations and is open to participants 10 years old and up. Come alone, bring friends, bring your family.
Welcome, one and all, to the Cobscook creative community!
Please REGISTER
For more information:
https://cobscookinstitute.org/classes-events/crafting-at-cobscook