Search
Events & Festivals
Crafting at the Cobscook Institute
Aug 17 - 20, Time: 4 days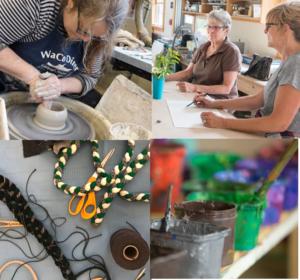 view larger photo
Cobscook Institute
Location: Cobscook Institute, 10 Commissary Point Rd, Trescott
Four seriously fun days of crafting and play!
Nurture your creative family with studio time, indoor and outdoor activities, celebratory meals, and wonderful community at our campus along Kapskuk (Passamaquoddy for Cobscook Bay).
During focused sessions we will offer adults four crafting options: book arts, screenprinting, pottery, and wildcrafting. You may learn new skills, refresh your old chops, or practice your craft under the guidance of a compassionate, accomplished artisan.
Between sessions, you can refresh your youthful spirit with activities and conversations, at Cobscook Institute and in the area.
Specialized programming will be provided for the youth of our intergenerational circle. Young folk will engage in nature-based crafting and adventuring. Creating their own plans each day, they can expect to dabble in such activities as tie-dying, drawing, weaving, and building fairy houses.
To sustain you physically and spiritually, the Institute will provide catered lunches with attention to dietary needs. The coffee will be on, the cider shall be pressed and we will have festive community dinners featuring live local music.
We anticipate that  you will find joy and inspiration in our creative community and that Cobscook Institute's facilities, campus and lodging will enhance and support your crafting experience!
Please reach out to Annie Hopkins with any thoughts/questions.
For more information:
(207) 255-7319