Search
Events & Festivals
Intro to Comparative Measurement Drawing
Oct 4 - Nov 8, Time: 2:30 - 5 PM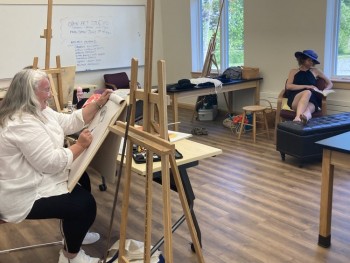 view larger photo
Cobscook Institute
Location: Cobscook Institute, 10 Commissary Point Rd, Trescott
With Brenda Gay (she/her/hers)
Ages: 12+
6 classes, October 4, 11, 18, 25, November 1 & 8 (make-up in case of canceled class 11/15)
Sliding Scale: $0-220* (including $50.00 materials fee)
*Our Access Fund provides self selected Sliding Scale Pricing to residents of Passamaquoddy Territory, Charlotte & Washington Counties.
We will begin this class with very basic geometric shapes using a single light source, and slowly add to those compositions.
The Old Masters always had their tools in top working/functioning shape.  Learning to draw well, it is essential that our tools be in the best shape possible. Beginning the first week making our own plumb line, sharpening our pencils using the academic method.  (Yes, sharpening pencils is a big deal, and takes a tremendous amount of time to do well, learning the Master's techniques)
Comparative Measurement Process- it's what the masters used.  Learn how to use one of the tools of the masters to improve and better inform the scale of your drawings.
It is so much fun to get people REALLY SEEING…  Comparison Measurement helps the artist to see and translate to surfaces more realistically.
For more information:
https://cobscookinstitute.org/classes-events/comparative-drawing-2022?mc_cid=e991894ecd&mc_eid=755c32d990