Search Events & Festivals
Klondike Mountain Guided Walk & Talk
Aug 8, Time: 10:30 am - Noon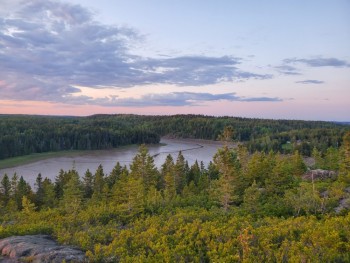 view larger photo
Downeast Coastal Conservancy
Location: Take US Route 1 to ME Route 189, leading to Lubec. After 9 miles, turn left on the North Lubec Road at McFadden's Variety. Go 1 mile to the Klondike Mountain Preserve sign on the left and park in the parking area.
We hear about climate change all the time in the news, but what exactly is it? How does it affect Downeast Maine? Downeast Coastal Conservancy invites participants to join us for a Walk and Talk discussion around Climate Change with guest speaker Dominic Winski at Klondike Mountain. As a group we will learn about climate change, the past, present and future impacts to our local lands and wildlife, and how land conservation helps reduce the impacts.
Please note the Klondike Mountain trail is approximately one mile long but is steep in some sections with loose rock. 
Dom grew up in Trescott, Maine and completed his B.A. in Environmental Earth Sciences at Dartmouth College in 2009, his M.S. in Quaternary and Climate Studies at the University of Maine in 2011 and his PhD in Earth Sciences at Dartmouth College in 2018.  Dom is currently a research assistant professor at the University of Maine where his research focuses on understanding patterns of climate change by using ice cores from alpine and polar regions to reconstruct temperature, precipitation and wind patterns.  Dom is committed to conservation efforts in Downeast Maine, which he believes are essential for the future ecological, economic, and cultural prosperity of the region.
For more information:
Downeast Coastal Conservancy
207-255-4500
Email: info@downeastcoastalconservancy.org