Search
Events & Festivals
Maine's Winged Migration Tour
Aug 27 - 31, Time: see website for schedule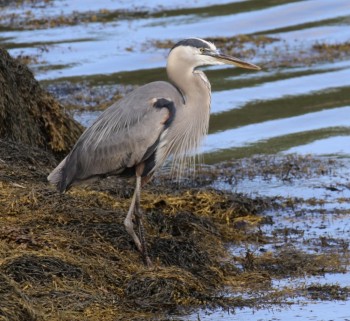 view larger photo
Schoodic Institute
Location: Acadia National Park, offshore, and Lubec
This tour begins in Bangor, Maine at 8:00 AM *.  We'll spend two nights at Schoodic Institute in Acadia National Park and two nights at Eastland Motel in Lubec, Maine's easternmost town.  From each lodge, day trips will investigate nearby intertidal areas flooded with migrating shorebirds and wood edges peppered with restless flocks of southbound warblers.  We'll also venture offshore for pelagic birds and whales into Head Harbor Passage, a deep-water channel between Canada and the United States.  The Downeast region is ideal for exploring the quieter reaches of Acadia National Park, spruce-bordered rocky headlands, nearby blueberry barrens, and diverse hotspots on the preserved lands of coastal Washington County.
Registration is required.  The package cost is $1585.00 per participant.
Example Itinerary
Day 1: Begins in Bangor, Maine at 8:00 AM (transportation pick up available) OR on the Schoodic Institute campus at 11:00 AM, as the group convenes for this 5-day, 4-night tour. Check-in and orientation is at Rockefeller Hall.  After check-in, introductions, and lunch, the afternoon will be spent exploring the Schoodic section of Acadia National Park.  Dinner is at 6:00 PM in Schooner Commons.  Following dinner, we will have an evening presentation to get acquainted with the history and ecology of the region.
Day 2: Starts with an optional bird walk before breakfast.  Breakfast is from 7:00 to 8:00 AM.  We'll then spend the day afield to survey birding hotspots in Acadia National Park and vicinity.  We'll return for an hour of leisure prior to a Lobster Dinner in the dining hall of Schoodic Institute.  After dinner discussion will focus on events of the day and research and education work of the Institute.
Day 3: Following breakfast, we'll transition from the Schoodic Peninsula by birding our way to Lubec, arriving by late afternoon.  Along the way, we'll visit Roque Bluffs State Park and another birding hotspot or two.  Dinner will be at a local eatery in Lubec.  After dinner we'll do a checklist review and preparation for the next day's adventure.           
Day 4: The focus today is a boat trip out of Eastport into Head Harbor Passage which lies between the U.S. and Canada – with a tide so strong that the world's second largest whirlpool, "The Old Sow," swirls in the middle.  So much sea life congregates in this channel that minke whales are usually sighted from land.  The channel fills with Bonaparte's Gulls, Black-legged Kittiwakes, Common Eiders, Black Guillemots, and Razorbills, feeding off mackerel and herring offshore.
Day 5: Is leader's choice, giving us a good portion of the day to make up for any bad weather or missed opportunities along the route from Lubec back toward Schoodic.  The tour ends at 2:00 PM.
To register go to   Schoodic Institute at Acadia National Park
For more information:
https://schoodicinstitute.org/event/winged-migration-2/
207-288-1310