Search
Events & Festivals
Mosaic Workshop with Meri Fern
Apr 15, Time: 10 AM - Noon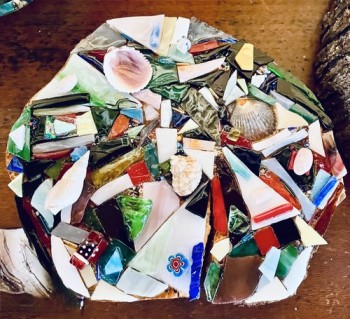 view larger photo
Meri Fern
Location: Cobscook Institute, 10 Commissary Point Rd, Trescott
Sliding Scale Fee: $0-50* (includes $25 materials fee) per class
*Our Access Fund provides Sliding Scale Pricing to residents of Passamaquoddy Territory, Charlotte & Washington Counties.
Participants may register for one or both classes.
Mosiac Garden Slab Decorations
Participants will be given a 2" wood slab to create a piece for their garden. We will use provided stained glass remnants, sea glass, broken china, beach shells, driftwood,etc. Participants are encouraged to bring their own "unique" materials to add to their piece. We will use resin to seal the pieces. These garden beauties can be in your garden Spring-Summer and when you bring them in for the winter you will still have all these bright wonderful colors to cheer you up in the dead of winter!
$0-50 each
AGES 16+

Registration Opens Soon.
For more information: