Search
Events & Festivals
Pottery Workshop - Beginner Wheel
Mar 4, Time: 9 AM - Noon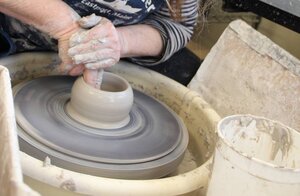 view larger photo
Cobscook Institute
Location: Cobscook Institute Campus, 10 Commissary Point Road, Trescott
Learn how to use a pottery wheel and its technique with Michelle Cousineau!  Students will work with partners and take turns trying the wheel.
$0-150*  *Our Access Fund provides Sliding Scale Pricing to residents of Passamaquoddy Territory, Charlotte & Washington Counties.
Ages 12+
Sliding Scale Fee: $0-150* (including $25.00 clay and firing fee)
About the Instructor:
Michelle is originally from Maine, has lived in various places around the state (including teaching in Lubec for a couple of years in the early 90s) and recently moved back to Maine after living in North Carolina for 20-some years. In North Carolina she taught adult education and studied pottery. She then worked professionally as a potter for many years, and also taught pottery classes out of her home studio. She's been a gallery owner and sold her work in various art shows and galleries.
Michelle lives in the Cobscook Area, and has a renewed Maine teaching certification. She works on her personal art as often as possible, and shows by appointment.

Physical Requirements:
Ability to move around the room independently, ability to lift and carry 5 pounds.
For more information:
https://cobscookinstitute.org/classes-events/pottery-workshop?mc_cid=492ded87b6&mc_eid=755c32d990