Search
Events & Festivals
River Camp
Jul 31 - Aug 14, Time: Two weeks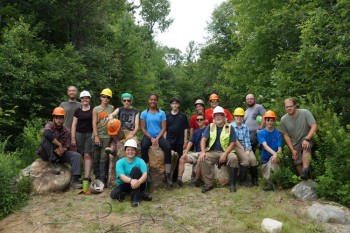 view larger photo
Cobscook Institute
Location: Cobscook Institute, 10 Commissary Point Rd, Trescott
River Camp is a two-week summer camp for teens interested in outdoor careers, conservation, ecology, and outdoor skill building. A joint program of Downeast Salmon Federation (DSF) and Cobscook Institute, teens who are accepted to River Camp are part of a co-ed youth crew and work alongside professionals on projects focused on habitat restoration and recreational access. Base camp is at the historic Wigwams Camp on the Wigwams Rapid on the Machias River, and participants venture out each day for work, skill building, exploration, and fun. Participants also experience camp life – swimming, playing games, and building outdoor skills.
Cost: Free!
Rising Grades: 9 -12
River Camp is a career-building experience. Just like a job, those who want to join River Camp submit an application and participate in an interview (see deadlines below). And, just like a job, those who successfully complete the River Camp experience go home with a stipend (not to mention new friends, new skills, and tons of great memories). The stipend recognizes the hard work that River Camp participants put into the conservation projects and the career skills built along the way.
River Camp i is expertly led by Cobscook Experiential Programs Co-Teacher, Maria McMorrow. Each participant will be supported in their learning process with compassion and fun.
For more information:
https://cobscookinstitute.org/rivercamp?mc_cid=492ded87b6&mc_eid=755c32d990