Search
Events & Festivals
Thursday Afternoon Pottery - July
Starts July 6, Time: 2:30 - 4:30 PM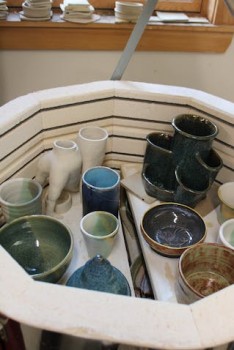 view larger photo
Cobscook Institute
Location: Cobscook Institute, 10 Commissary Point Rd, Trescott
Register at the Cobscook Institute website.
Ages 13+
Fee: $0 - $125.00 Our Access Fund provides Sliding Scale Pricing to residents of Passamaquoddy Territory, Charlotte & Washington Counties.
Learn More about our Access Fund
 
All Levels Class. Students of all skill levels may explore their creativity and improve their pottery making skills in a supportive and collaborative environment.

Schedule
Thu Jul 6, 2:30 pm - 4:30 pm
Thu Jul 13, 2:30 pm - 4:30 pm
Thu Jul 20, 2:30 pm - 4:30 pm
Class Fee includes $30 materials fee.
Additional Open Studio Practice Included in fee.
Whether you are a beginner looking to learn the basics of pottery making or an experienced potter seeking to refine your techniques, this class will provide you with the tools and guidance you need to achieve your goals. Throughout the course, you will have the opportunity to work independently on your own projects in a self-directed studio environment, with access to a wide range of pottery equipment, tools, and materials. You will receive personalized guidance and feedback from our experienced instructor, who will be available to answer your questions, provide technical support, and offer creative inspiration as needed.
In addition to self-directed studio work, the class will also include group discussions, critiques, and demonstrations on various techniques and topics related to pottery making. You will learn about hand-building and wheel-throwing techniques, glaze chemistry, kiln firing, surface decoration, and more, all while exploring your own creative interests and developing your own unique style.
You will have develop a deeper understanding of ceramic arts, improve your technical skills, and create your own portfolio of unique pottery pieces. This class will provide you with the tools and support you need to succeed.
About the Instructor:
Michelle is originally from Maine, has lived in various places around the state (and taught in Lubec in the early 90s) and has settled in Maine after living in North Carolina for 20-some years. In North Carolina she taught adult education and studied pottery. She then worked professionally as a potter for many years, and also taught pottery classes out of her home studio. Michelle has been a gallery owner and has sold her work at her own and other galleries as well as exhibited her art in various art shows and galleries.
Michelle lives in the Cobscook Area, and has a Maine teaching certification. She works on her personal art as often as possible, and shows by appointment.
 
 
 
 
 
 
 
 
 
 
 
 
 
 
 
 
 
Physical Requirements: Ability to move around the room independently, ability to lift and carry 5 pounds.
For more information: