Search Events & Festivals
Washington County Family Nature Club - Klondike Mtn
Aug 20, Time: 1 - 3 PM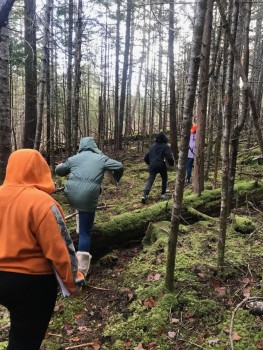 view larger photo
Downeast Coastal Conservancy
Location: Klondike Mountain, Lubec
Downeast Coastal Conservancy (DCC) has partnered with Maine Outdoor School (MOS) to start a community-based Family Nature Club. This club will be a series of several educational outings that allow participants to learn and play together outside while visiting DCC preserves throughout Washington County.
Each outing will be unique and led by Hazel Stark, a co-founder of Maine Outdoor School, a Naturalist Educator, and a Registered Maine Guide. Supporting Hazel is Cathy Lookabaugh, DCC's Outreach Director and experienced trip leader. Whether your family is new to the outdoors or seasoned explorers, let us handle all the hassle when it comes to the planning and simply join us to explore, play, and learn outside!
Not only will you connect as a family, but also you'll meet other families with similar interests and experience natural areas and activities throughout your community that you can visit again and again!
Each Family Nature Club outing will be 2 hours in length and locations will vary from Steuben to Lubec. The activities are designed for youth aged 9-14, but all members of your family are welcome: younger siblings, older siblings, parents, grandparents, aunts, uncles – you name them! The club is totally FREE, and you can join at any time – there is no long term commitment and you don't have to attend every outing.
Registration is required and COVID-19 guidelines will be followed.
For more information: