Search
Events & Festivals
West Quoddy Head Lighthouse Opens 2022
May 30, Time: 10 AM - 4 PM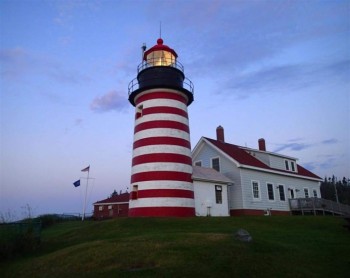 view larger photo
West Quoddy Lighthouse
Location: West Quoddy Head Visitor's Center
973 South Lubec Rd, Lubec
The West Quoddy Head Visitors Center is opening for the Summer Season 2022!
See you all real soon!
West Quoddy Head, in Quoddy Head State Park, Lubec, Maine, is the easternmost point of the contiguous United States.
Since 1808, there has been a lighthouse there to guide ships through the Quoddy Narrows.
The current one, with distinctive red-and-white stripes, was built in 1858, and is an active aid to navigation. 
The 3rd order Fresnel lens is the only 3rd order and one of only eight Fresnel lenses still in use on the Maine Coast.
During the summer season, an Artist will be featured once a week in the Lighthouse Art Gallery at the Visitors Center. Come by and check out all the talent at the easternmost gallery.
For more information:
207-733-2180