Search
Events & Festivals
Winter Solstice Sunset Hike
Dec 21, Time: 3 - 4:30 PM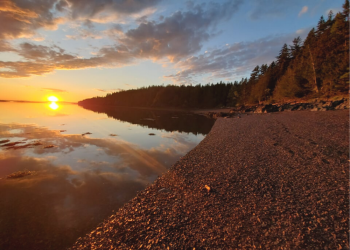 view larger photo
Downeast Coastal Conservancy
Location: Pike Lands Preserve, Lubec
Join us in celebrating the solstice, connecting with nature, and experiencing the beauty of winter with a guided walk and bonfire.
This year, the winter solstice, occurs on December 21, when the sun will rise after 7 a.m. and set shortly before 4 p.m marking the shortest day and longest night of the year. And because it marks the end of days with minimum daylight and signals that a spring awakening is just a few months away, it is also, for some, a favorite day of the year!
This walk will take place Pike Lands Preserve in Lubec, where we will hike the trails to Huckins Beach for a sunset view – same spot we watched the setting sun during the Summer Solstice earlier this year!
Hikers should be prepared to hike over uneven terrain on the trail and in low light conditions by bringing your own hiking stick and/or flashlight if desired. Trail conditions could be icy or snowy depending on the weather. Please dress warm!
This event will be approximately 1.5 hours in length. 
Registration coming soon! Check back here to register.
Outdoor programs are subject to cancellation due to inclement weather, updates will be sent to registered participants.
For more information:
https://downeastcoastalconservancy.org/event/summer-solstice-sunset-hike/