Search Events & Festivals
ARTWORKSOFMAINE - Gallery, Gift Shop & Grange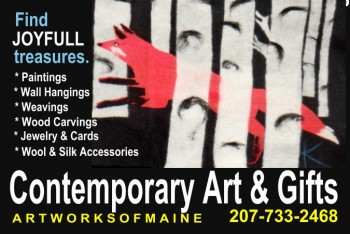 view larger photo
ARTWORKSOFMAINE
June, July, August, September
(Friday, Saturday)
Location: ARTWORKSOFMAINE 10 North Lubec Road, Lubec
ARTWORKSOFMAINE GALLERY & GIFT SHOP is a showplace of unexpectedly fine contemporary artworks and gifts. The gallery is painted a bright turquoise blue...you can't miss it! With nicely landscaped grounds, it is located next to the huge building known as the LUBEC GRANGE FLEA MARKET and offers easy parking. OPEN Fridays & Saturdays, 2-5 pm, June 7-Sept and on other days when the OPEN flag flies. Or, by appointment: 207-733-2468. Paintings, felted wool wall hangings, Shibori & Nuno scarves/wraps, silk screens, cards, carved and painted wood feather necklaces, weaving, lobster rope rugs. A working Cranbrook floor loom is on view. Please visit our website for previews.

The LUBEC GRANGE FLEA MARKET is "My favorite department store!", a regular customer commented. Located next to the Gallery, it is open Fridays & Saturdays, 11-2 pm, June 7 - Sept. First come, first served! Treasures abound!

Both the Gallery and Grange, located at 10 N. Lubec Road, Lubec, are easily seen, two miles outside of downtown Lubec along busy Rte 189 across from McFadden's GULF, the only gas station in town.
For more information:
Karen Baldauski & Bob Foster 
207-733-2468 year round