Search
Events & Festivals
Masons' Music and BBQ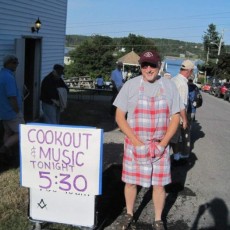 view larger photo
Lubec Masons
June, July, August
(Thursday)
Location: Masonic Lodge, 15 Main Street, Lubec.
Come eat, sing and dance in Downtown Lubec!
Hamburgs, hot dogs, chicken, home-made salads, beans, dessert and more.
Top it off with live music; it doesn't get any better!
Come one; come all; come early!
Hosted by our local Masons of Washington Lodge #37.(Lubec Masons since 1822!)
Every Thursday: 5:30 PM (June 29 - August 31)  
Cost is $12 per adult; $7 for kids. Ask them about family rates, when you're there.