Search Events & Festivals
Pathfinders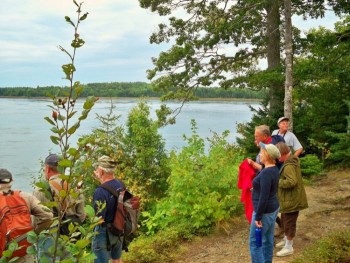 view larger photo
Dale Calder
Every Month
(Sunday)
Location: Downeast Maine
Pathfinders, a volunteer group, invites the public to join them on organized walks at a variety of beautiful Downeast locations all year round!
All walks start at 1 PM and are approximately two hours long and may be canceled due to inclement weather. While these group outings are a great opportunity to visit new places and meet new people, all walkers must assume responsibility for their own safety.
Wear appropriate clothing and footwear for the weather and terrain, and consider bringing water and a pick-me-up snack. Also, binoculars or a camera may help you catch a glimpse at wildlife at a safe and respectful distance.


JULY EVENTS
July 8
Campobello Island Hike:  Friar's Head to Roosevelt's Cottage. This easy to moderate hike starts at the viewing platform overlooking Eastport and the islands in Johnson's Bay.  Meet at the Campobello Visitor Center parking lot at 1:00. Be sure to bring proper ID for the border crossing.
July 15
Commissary Point in Trescott: Take Rt 1 to Rt. 189 in Whiting.  Go 1.7 miles Turn left at the sign for Cobscook Community Learning Center (Commissary Rd.).  Meet at the CCLC Parking lot at 1:00. This 1.8, easy to moderate trail goes through a coniferous forest and along the edge of Rocky Point peninsula on Whiting Bay.    
 July 27
Machias River Preserve in Machias: Take Rt. 1A (North Main St.) in Machias.  The trail head is on the left about .3 miles south of the Down East Community Hospital.  This easy wooded trail follows along the Machias River for 2.5 miles the loops back along the Down East Sunrise Trail.   
For more information:
Woody Gillies at 726-5570 or email at cwgillies@gmail.com