Search Events & Festivals
Pathfinders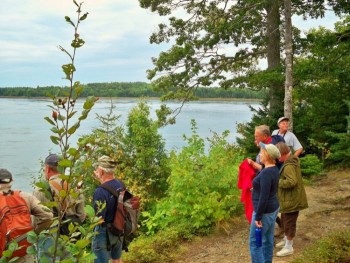 view larger photo
Dale Calder
Every Month
(Sunday)
Location: Downeast Maine
Pathfinders, a volunteer group, invites the public to join them on organized walks at a variety of beautiful Downeast locations all year round!
All walks start at 1 PM and are approximately two hours long and may be canceled due to inclement weather. While these group outings are a great opportunity to visit new places and meet new people, all walkers must assume responsibility for their own safety.
Wear appropriate clothing and footwear for the weather and terrain, and consider bringing water and a pick-me-up snack. Also, binoculars or a camera may help you catch a glimpse at wildlife at a safe and respectful distance.


JUNE EVENTS
June 3
Roque Bluffs State Park: About one mile south of the Machias town center turn left on Roque Bluffs Rd and continue 8 miles to the village of Roque Bluffs.  The main trail head parking is located in Roque Bluffs village.  This is a 3 mile hike through orchards, fields and woods bordering the rocky shores of Great Cove.  The apple blossoms should be in bloom making this a beautiful hike.
 June 10
Campobello Island Roosevelt International Park: Lower Duck Pond to Liberty Point:This 1.1 mile (one way) hike weaves back and forth between interesting, pleasant forest and shore with some great views from the Liberty Point observation deck before returning.
From Rt. 774 on Campobello turn left onto Glensevern Rd in front of Roosevelt's cottage.  Continue to T and turn right on Liberty Point Drive to Lower Duck Pond Trail Head. Don't forget your papers for crossing the border.
 June 17
Reversing Falls Preserve: We will be close to high tide on this day and so we should be able to see the falls at their best.   Take Rt. 1 to Pembroke.  Turn east onto the extension of Rt. 214, immediately beside the Irving gas station.  Turn right at the stop sign, then take an immediate left up a small hill onto the Leighton Point Re.  Continue 3.3 miles,  then turn right onto Clarkside Rd. and continue for 1.2 miles.  At the end of Clarkside Rd. turn left onto a dirt road and continue for 1l5 miles to the parking area.
 June 24
Boot Head Preserve: Follow South Lubec Rd 2.7 miles and take the right at the fork in the road onto Boot Cove Rd. Continue 2 miles to the trail head parking lot on the right. This 2 mile hike includes long sections of bog bridging and rises to the tops of rocky promontories that offer sweeping views of Maine's Bold Coast.
For more information:
Woody Gillies at 726-5570 or email at cwgillies@gmail.com