Search
Events & Festivals
Public Baked Bean Supper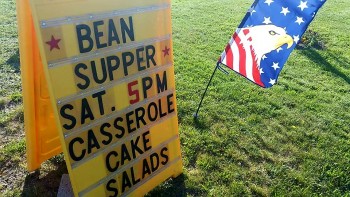 view larger photo
West Lubec United Methodist Church
April, May, June, July, August, September, October
(Saturday)
Location: West Lubec United Methodist Church, Rt. 189, West Lubec
Every 3rd Saturday of Month April through October, except 2nd Saturday in August, 5 - 6 PM
Enjoy a traditional New England "Public Bean Supper"   Our family-style menu includes 2 kinds of home-made beans, yeast rolls, brown bread, casseroles, salads, cream cake, coffee and more!
Good food! Good fun! Good friendship!  All are welcome!  Adults - $8;  Children under twelve - $4

ADDITIONAL EVENTS:
Spring sale, 1st Saturday in April (white elephant table, baked goods) 9 AM – Noon
Easter Sunrise Service at 6 AM followed by Easter breakfast buffet at 6:30 AM - all welcome.
July Bazaar!  (fish chowder by the bowl, homemade pie by the slice, sale table) 9 AM – 1 PM
Fall sale - 2nd Saturday in October (baked goods, white elephant table) 8 AM – Noon
Christmas Sale, 1st Saturday in December (wreaths, food, sale table)  8 AM – Noon
For more information:
West Lubec United Methodist Church
207-733-2426