Bridge to Campobello Island, Canada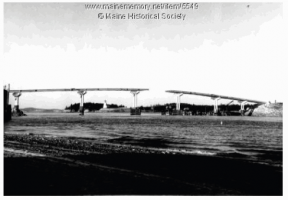 Roosevelt International Bridge
under construction, 1962
Photo courtesy of MaineMemory.net
view larger photo
To Canada:
Before entering Campobello Island, via the Roosevelt International Bridge (no toll) in Lubec, travelers must first go through Canadian Customs. A passport or its equivalent is required. Children travelling with others must have a permission note from parents. A few questions need to be answered before being allowed to proceed. Anything brought over is being imported into Canada. There are restrictions on importation of firearms, alcohol, tobacco and certain foods. Rabies certificate is required for dogs. For more information see the Canada Border Services Agency or call 1-506-752-1130.
Returning to Lubec:
Upon returning to Lubec, via the same bridge, (or via another port of entry such as the border crossing at St. Stephen's, New Brunswick, Canada and Calais, Maine) travelers must go through U.S. Customs. A few questions need to be answered and before being allowed to enter or re-enter the U.S., your Passport or its equivalent and (if applicable) your U.S. Residency "Green Card" need to be shown, as well as birth certificates for children under 16. All items acquired outside the United States must be declared, including food, plants and animals.
Occasionally, crossing the border into the U.S. also requires showing vehicle registration documentation and, with the increased border security in effect, vehicles are sometimes searched. For more information see The Government of Canada or call the U.S. Border Crossings at 1-207-733-4960 or 207-733-4331.
The Roosevelt International Bridge celebrated its 50th Anniversary August 5, 2012!