Town Overview for Lubec, Maine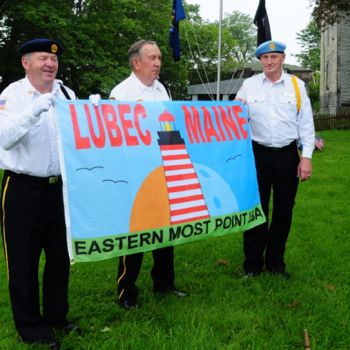 American Legion Honor Guard
at the Lubec Bicentennial Celebration
photo Goodman/Van Riper Photography
view larger photo
Settled in 1785 and incorporated in 1811, Lubec is the easternmost town in the continental United States. Located on a headland, with 97 miles of shoreline (click here for tide charts) the town is approximately eleven miles east of the intersection of Routes 1 and 189.
Lubec's surrounding terrain offers a rugged coastal setting and natural beauty, combined with solitude and tranquility rarely found on other more frequented parts of the Maine coast.  Lubec is a place for getting off the beaten path, slowing down, staying a while, and minimizing your carbon footprint.
With activities, affordable services and amenities to welcome and satisfy entrepreneurs, vacationing singles, couples and families, Lubec is becoming the natural destination of choice for all who love the great outdoors and are looking for sustainable travel experiences.
The town's inhabitants have celebrated their isolated existence and unique, unaffected character, community, and culture for over two hundred years. To learn more about Lubec's history, see the Maine Memory Network's Lubec section. Lubec Landmarks provides tours of the skinning shed of the McCurdy Smokehouse Museum on Water Street. Lubec Historical Society's exhibits may be viewed at 135 Main Street. To learn about those who were here before Europeans, visit the Waponahki Museum and Resource Center. A fun way to learn about Lubec history or its special nature, is to download a recorded audio tour available at the Eastland Motel.   Discover a little more about our community and character in the first and second whale's story.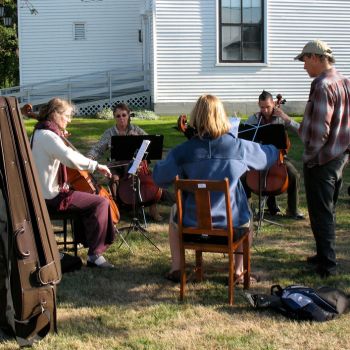 Summer Keys cello class
photo Ruta Jordans
view larger photo
And with every intention of retaining that uniqueness, local businesses welcome and cater to a growing number of summer residents, new home-owners from 'away', and seasonal vacationers.
In recent years, Lubec has seen an increasing amount of focus on the creative arts, providing interested residents and visitors with educational and enjoyment opportunities including:
Fiber arts
Music
Painting
Photography
Sculpture
Theater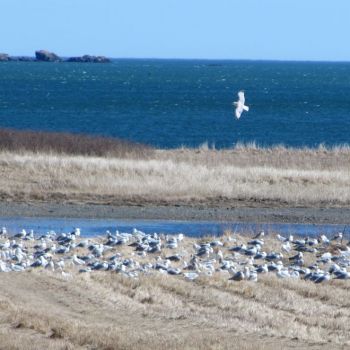 Lubec is a paradise for birds and birder's alike
Photo Catherine Mettey
view larger photo
Lubec (with Quoddy Head State Park and multiple public lands) and the surrounding area (with the Roosevelt Campobello International Park, Cobscook Bay State Park and Moosehorn National Wildlife Refuge) offer the self-initiating a variety of seasonal and year-round activities such as:
Nature photography
Cycling
Walking and hiking*
Lighthouse viewing - 5 in the immediate area
Browsing artists' studios and galleries
Antiquing
Birding
Whale, seal and puffin-watching
Eco-touring and island cruising
Fishing and hunting
Recreational boating
Snow-shoeing, cross-country skiing, ice-fishing and snow-mobiling
Whether planning your next vacation, considering retirement to a rural coastal community, or relocating to start a new life or a business, isn't it time you came to Lubec?
* A snippet of information for hikers: One of the men who figured prominently in the making of the Appalachian Trail, (the footpath connecting the ridge of mountains stretching from Maine to Georgia), was born right here in Lubec - Lubec native Myron Avery (1899 - 1952).