photo: Tamara Del Valle
Bus Transportation Services in Lubec, Maine
The Coastal Connection,    1-800-596-2823  westbus@ymail.com
Serving Downeast Maine  7 DAYS A WEEK
Calais, Machias, Ellsworth, Bangor and points in between
(closest stop to Lubec is Whiting Corner)
Connecting with these locations in Bangor:
Bangor Airport
Concord Trailways
SunRides Community Transit has partnered with West Bus Service to provide the Peninsula Connector transportation to and from Whiting Corner and communities in the Lubec area. Reservations are required.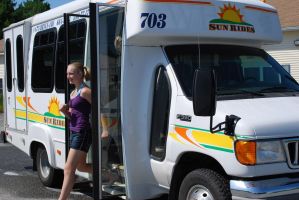 The SUNRIDES van
Photo provided by WHCA
view larger photo
Eastern Area Agency on Aging and SUNRIDES Community Transit with help from the Federal Transit Administration and MDOT have teamed up to create once monthly trips from Lubec to Calais and Bangor.
1st Thursday of each month – Eastport to Bangor: Driver leaves from Lubec – call 1-877-374-8396 for a reservation
2nd Thursday of each month - Up River Connection to Calais: Leaves Lubec from 3 locations - 8:00 AM Lyons Grocery / Sunset View Apartments / Lyons Convenience Store West Lubec
3rd Thursday of each month - Bangor Connection: Leaves Lubec from 3 locations - 8:00 AM Lyons Grocery / Sunset View Apartments / Lyons Convenience Store West Lubec
These trips are FREE for Seniors and are on a first come first served basis. For non-seniors the cost is $25 if seats are available and reservations must be made in advance by calling 1-877-374-8396
For times and details call 1-877-374-8396