Non-Profit and Volunteer Organizations Lubec, Maine
Visitors and new residents often ask us about volunteering in the Lubec area. This page is our attempt to answer that question - but it is not inclusive. New groups are springing up as this is written. The organizations go from the traditional Masons, Lions, and Woman's Club to the groups specific to Lubec such as Save Our Strays and the committee to establish a Lost Fishermen's Memorial Park.
Ways to help vary from volunteering at the lighthouse visitor center, or cuddling kittens, to helping a land trust clear trails. They might each be very different, but all are striving to improve life in Lubec and would welcome your participation and donations. Click on underlined organization names for more information.
For specific information on needs for volunteers go to VolunteerMaine.org.
More information can be viewed for featured listings (with a star).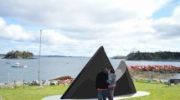 Lost Fishermen's Memorial Park Association
PO Box 194
Lubec, Maine 04652
Shelly Tinker: (207) 733-2578
Dennis Corso: (207) 733-2538
Lubec Community Outreach Center (LCOC)
Community service programs – working together for each other.
PO Box 41, 44 South Street
Lubec, Maine 04652
207-733-6113
Additional Resources
American Legion (Stuart-Green Post #65)
Lubec, Maine 04652
Bay of Fundy International Marathon and 10K
Lubec, Maine 04652
Cobscook Institute
Trescott, Maine 04652
Dennys River Historical Society
Dennysville, Maine 04628
Downeast Coastal Conservancy
Machias, Maine 04654
Fundy Audubon
Lubec, Maine 04652
Greenhorns
Pembroke, Maine 04666
La Troupe Sans Frontieres - Theatre Without Borders
Campobello, N.B., Canada E5E 0A2
Lubec Arts Alive!
Lubec, Maine 04652
Lubec Campobello Community Theatre
Lubec, Maine 04652
Lubec Citizens' Association
Lubec, Maine 04652
Lubec Garden Club
Lubec, Maine 04652
Lubec Historical Society and Museum
Lubec, Maine 04652
Lubec Lions Club
Lubec, Maine 04652
Maine Coast Heritage Trust
Other, Maine
New England Aquarium
Lubec, Maine 04652
Next Step Domestic Violence Project
Machias, Maine 04654
Passamaquoddy Yacht Club
Lubec, Maine 04652
Pembroke Historical Society
Pembroke, Maine 04666
Quoddy TV
Lubec, Maine 04652
Transition Lubec
Lubec, Maine 04652
Trescott Historical Society
Trescott, Maine 04652
Washington Lodge #37 of Free and Accepted Masons
Lubec, Maine 04652
Whiting Historical Society
Whiting, Maine 04691