About Campobello, N.B.
A Lubec, Maine, neighbor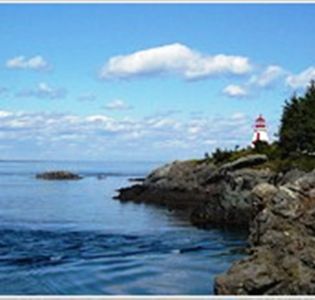 East Quoddy Lightstation
(aka Head Harbour Lightstation)
view larger photo
Campobello Island is Lubec's closest neighbor and can be reached by crossing the Lubec Narrows via the Roosevelt Campobello International Bridge (toll-free) near downtown Lubec. You'll be required to check in at Customs and show a valid passport or Air NEXUS card.
Campobello Island is in a unique geographical position lying in the Bay of Fundy on the Eastern coast of Down East Maine and connected to the USA via the Roosevelt Campobello International Bridge.  Additional information can be found on the Campobello Island Tourism Association website.
The island was the beloved summer residence of the late President Franklin D. Roosevelt and his family. The Roosevelt International Park is jointly owned and maintained by the USA and Canadian governments. The museum quality houses are a treat to visit and admission is free. The International Park is a stellar portrait of nature: unspoiled, pristine and with beautiful beaches, craggy rocks, sightings of whales, seals and eagles; and more! It is an oasis of nature ideal for hiking, biking, exploring or just plain enjoying.
The island is nine miles long and has an interesting history as well as a mixed cultural background. The East Quoddy Lightstation (aka Head Harbour Lightstation) is one of Campobello's main attractions: a beautiful sentinel perched on the northernmost outer islands off the main island. One can walk across to the lighthouse at low tide.
The Herring Cove Provincial Park is on mile-long Herring Cove Beach, providing visitors with breathtaking scenery, a view of Grand Manan Island, and a beach scattered with rocks of unbelievable colour and beauty. A nine hole golf course sits on a hill overlooking the cove and is one of the most challenging in the province. Adjacent to the course is a restaurant/clubhouse as well as a pro shop with sports equipment and clothing. The Herring Cove Campsite features tent cabins, 88 campsites, and RV sites, and sports a vast network of trails.
Gift shops filled with beautiful maritime gifts and souvenirs will tempt any visitor. Whale-watching, deep-sea fishing, painting workshops, and more are also available. Accommodations dot the shores, and you can pick from cabins, villas, chalets, motels, and bed-and-breakfasts. The island is a treasure, basking in the sunlight and surrounded by the briny aroma of the ocean, and is a safe, beautiful place to visit.