About Deer Island, N.B.
A Lubec, Maine, neighbor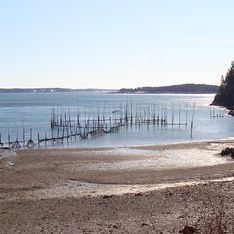 Hibernia Cove, Deer Island, N. B.
view larger photo
Deer Island is a Canadian island in the Bay of Fundy at the entrance to Passamaquoddy Bay. The island is part of the Fundy Islands in Charlotte County.
At 45 km², the island is the largest in the West Isles Parish which had a 2001 population of 851. The island is entirely rural with only one major route, which is Route 772. The largest communities on the island are Fairhaven, Leonardville, and Lords Cove. The economy is primarily driven by the fishing and aquaculture industries, although tourism is growing in importance.
While visiting, check out Deer Island Point Campground to view the Old Sow Whirlpool, the largest tidal whirlpool in the Western Hemisphere. Deer Island Point is also popular with scuba divers for its marine life.
Explore beautiful, unspoiled Deer Island with a kayaking, birdwatching, scuba diving or photography adventure.
Reach us, year-round, by taking the free government ferry from Letete, N. B. (near St. George) or during the summer season from Eastport, Maine, or Campobello Island, N. B. on either toll ferry. We have accommodations, restaurants and a campground.