About St. Andrews, N.B.
A Lubec, Maine, neighbor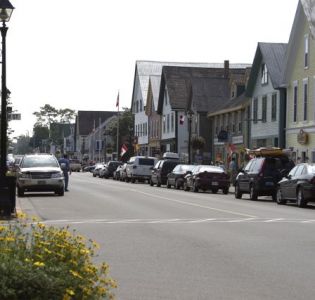 Water Street
view larger photo
A North American Premier Seaside Heritage Resort
From lobster rolls to fine dining, from seaside camping to the luxurious, newly renovated Algonquin Hotel and Resort with an indoor pool and waterslide, and outdoor hot tubs, St. Andrews By-the-Sea is bustling with adventures and experiences for everyone.
Engage in activities such as whale-watching, kayaking, boat tours, and scuba diving; walk on the ocean floor at low tide; explore the nature and art of St. Andrews, or stroll leisurely about and have tea in an exquisite botanical garden. Sunbathe on the warm white sands of Katy's Cove, or visit the downtown shops for a little treasure hunting.
Visit exhibits and programs at the Ross Memorial Museum.  Learn more about Passamaquoddy Bay at the Huntsman Aquarium and Science Centre. Be embraced by our hospitality. Be in St. Andrews.