About St. George, N.B.
A Lubec, Maine, neighbor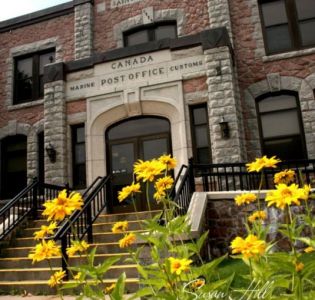 St. George post office
Photo by Susan Hill Photography
view larger photo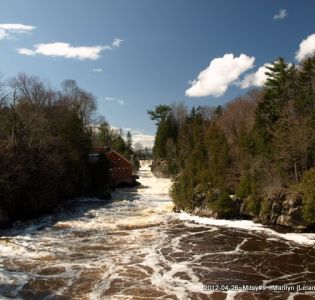 Magaguadavic River gorge
Photo by Marily Leland Bennett
view larger photo
Uncrowded, Unspoiled, Unbelievable St. George!
Red granite that is. Granite Town, nestled around the Fundy basin, is rock solid in its hospitality and natural beauty. Pocket a small sample of our famous St. George Red as you explore one of the many quarries that flourished in the 1800s.
Camera buffs, take a wide-angle view from the lower bridge of the historic mill and First Falls, the original name for the town. Capture the ebb and flow of river and bay as the waters of the basin meet those of the magnificent Magaguadavic River. Explore the gorge in detail, watching carefully for osprey overhead or Atlantic salmon maneuvering the fish ladder.
St. George, Granite Town, First Falls is a Loyalist town, historic in culture, diverse in architecture, and featuring Canada's oldest Presbyterian Kirk still in operation.
Canoe and kayak on the river, the lake, or in the basin. Cast for bass on the famed Magagaudavic, or try your hand at trout fishing in the streams or nearby Lake Utopia. For the more sure of foot, take a leisurely stroll along the waterfront, explore the historic sites, scan the horizon for osprey or eagles, and catch the ripples on the bay or river and identify the source. Explore the many covered bridges in the area. One crosses a natural canal where the majestic Magagaudavic meets the mysterious waters of Lake Utopia. Bask in the sun on the sandy beaches of Lake Utopia, or pan the lake for a sighting of the famed Lake Utopia monster. There's plenty to tempt the most enthusiastic. At day's end enjoy a lobster bake or corn boil on the beach, and experience the peace and serenity of a lingering sunset.