About Jonesboro
A Lubec, Maine, neighbor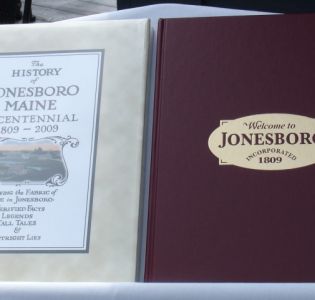 Jonesboro bicentennial book
view larger photo
Jonesboro, a small coastal town in Washington County with 583 residents in 2010, is steeped in history and colored with local folklore. Lumbering, shipbuilding, and granite quarrying helped to build and develop the town. Transport of huge white pine, spruce, and fir spurred the shipbuilding trade.
The famous Jonesboro "red granite" was shipped all over the United States to become incorporated into state and federal buildings. Today only one granite quarry is in operation, but remains of several can still be seen, their water-filled centers encircled with huge granite boulders.
Shipbuilding is no longer a viable trade and lumbering is in the hands of a few private companies, but local history and pride were much in evidence as the town celebrated its bicentennial in 2009 with a three-day celebration and a written publication of its 200-year history.
Stop for a visit, and purchase our book of local history.  Stay at the Blueberry Patch Motel on Route One.