photo: Dennis Drews
Maps of the Lubec Region and
Coastal Washington & Charlotte Counties
For many more regional map resources visit the Trails & Maps page.
The Wi-Fi Hotspots page has a list of "free to public" and "free to customers" wi-fi locations.
Lubec Village Map
Lubec Full Town Map
Coastal Regional Map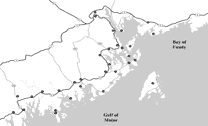 GPS Navigation Coordinates
44.840563, -67.015193
If you have a GPS, enter these coordinates (latitude, longitude) to arrive in downtown Lubec, near the intersection of Route 189 and North Lubec Road.
Google Map
View this map and driving directions at Google.com
Bing Map
View this map and driving directions at Bing.com